01.12.2017 | Research | Ausgabe 1/2017 Open Access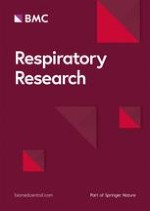 Caffeine modulates glucocorticoid-induced expression of CTGF in lung epithelial cells and fibroblasts
Zeitschrift:
Autoren:

Markus Fehrholz, Kirsten Glaser, Christian P. Speer, Silvia Seidenspinner, Barbara Ottensmeier, Steffen Kunzmann
Abstract
Background
Although caffeine and glucocorticoids are frequently used to treat chronic lung disease in preterm neonates, potential interactions are largely unknown. While anti-inflammatory effects of glucocorticoids are well defined, their impact on airway remodeling is less characterized. Caffeine has been ascribed to positive effects on airway inflammation as well as remodeling. Connective tissue growth factor (CTGF, CCN2) plays a key role in airway remodeling and has been implicated in the pathogenesis of chronic lung diseases such as bronchopulmonary dysplasia (BPD) in preterm infants. The current study addressed the impact of glucocorticoids on the regulation of CTGF in the presence of caffeine using human lung epithelial and fibroblast cells.
Methods
The human airway epithelial cell line H441 and the fetal lung fibroblast strain IMR-90 were exposed to different glucocorticoids (dexamethasone, budesonide, betamethasone, prednisolone, hydrocortisone) and caffeine. mRNA and protein expression of CTGF, TGF-β1-3, and TNF-α were determined by means of quantitative real-time PCR and immunoblotting. H441 cells were additionally treated with cAMP, the adenylyl cyclase activator forskolin, and the selective phosphodiesterase (PDE)-4 inhibitor cilomilast to mimic caffeine-mediated PDE inhibition.
Results
Treatment with different glucocorticoids (1 μM) significantly increased CTGF mRNA levels in H441 (
p
 < 0.0001) and IMR-90 cells (
p
 < 0.01). Upon simultaneous exposure to caffeine (10 mM), both glucocorticoid-induced mRNA and protein expression were significantly reduced in IMR-90 cells (
p
 < 0.0001). Of note, 24 h exposure to caffeine alone significantly suppressed basal expression of CTGF mRNA and protein in IMR-90 cells. Caffeine-induced reduction of CTGF mRNA expression seemed to be independent of cAMP levels, adenylyl cyclase activation, or PDE-4 inhibition. While dexamethasone or caffeine treatment did not affect TGF-β1 mRNA in H441 cells, increased expression of TGF-β2 and TGF-β3 mRNA was detected upon exposure to dexamethasone or dexamethasone and caffeine, respectively. Moreover, caffeine increased TNF-α mRNA in H441 cells (6.5 ± 2.2-fold,
p
 < 0.05) which has been described as potent inhibitor of CTGF expression.
Conclusions
In addition to well-known anti-inflammatory features, glucocorticoids may have adverse effects on long-term remodeling by TGF-β1-independent induction of CTGF in lung cells. Simultaneous treatment with caffeine may attenuate glucocorticoid-induced expression of CTGF, thereby promoting restoration of lung homeostasis.