01.06.2014 | Original Article | Ausgabe 6/2014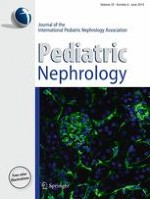 Calcium and vitamin D for osteoprotection in children with new-onset nephrotic syndrome treated with steroids: a prospective, randomized, controlled, interventional study
Zeitschrift:
Autoren:

Surabhi Choudhary, Indira Agarwal, Mandalam S. Seshadri
Abstract
Background
There are no robust guidelines on strategies to prevent the adverse skeletal effects of glucocorticoids in children.
Objectives
To evaluate the role of prophylactic calcium and vitamin D on bone health in children with new-onset nephrotic syndrome (NS) treated with short-term (12 weeks), high-dose glucocorticoids.
Methods
Prospective, randomized, controlled, single blind, interventional study conducted on 41 steroid-naïve pre-pubertal children (29 boys, 12 girls). All children received prednisolone for 12 weeks (60 mg/m2/day daily for 6 weeks, followed by 40 mg/m2/day alternate days for 6 weeks). Recruited children were randomized into the intervention group (IG; vitamin D 1,000 IU/day and elemental calcium 500 mg/day) and the control group (CG). Bone mineral content (BMC) and bone mineral density (BMD) at the lumbar spine (L1–L4) were estimated at baseline and at 12 weeks. Mean percentage changes in BMC and BMD in IG and CG were compared.
Results
Children in the IG showed an increase of 11.2 % in BMC versus the CG, who showed an 8.9 % fall (
p
 < 0.0001). Net intervention-attributable difference in BMC was 20.1 %. BMD increased in both groups (IG 2.8 % vs CG 0.74 %), but the difference was not statistically significant (
p
 = 0.27).
Conclusions
Short-term, high-dose glucocorticoid therapy decreases the BMC of the lumbar spine in steroid-naïve children with NS. Vitamin D and calcium co-administration not only prevents this decline, but also enhances BMC of the lumbar spine.