17.03.2018 | Original Article | Ausgabe 4/2018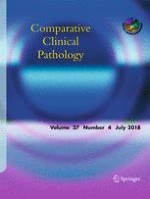 Calcium metabolism-related hormonal changes in layers experimentally infected with
Salmonella Gallinarum
Zeitschrift:
Autoren:

Mohammed Adam Chiroma, Adamu Sani, John Joseph Gadzama, King Akpofure Nelson Esievo, Abdulsalam Hassan, Yagana Bukar Majama, Arhyel Gana Balami, Muhammad Ya'u, Baba Gana Gambo
Abstract
The present study was conducted to investigate the calcium metabolism-related hormonal changes in layers experimentally infected with
Salmonella Gallinarum
. A total of 20 18-week-old ISA brown layers were purchased from a commercial poultry farm in Kujama farm, Kaduna State, Nigeria. The birds were allowed to acclimatize for a period of 4 weeks prior to commencement of the experiment. On the day of infection with
Salmonella Gallinarum
, the birds were randomly divided into two groups, infected and control, of 10 birds each. To establish the infection, each bird in the infected group was orally administered 0.5 ml of the inoculum containing 9 × 10
8
CFU/ml. Similarly, birds in the control group were each administered 0.5 ml normal saline only. Following the inoculation, all experimental birds were closely monitored for clinical signs of fowl typhoid. Blood samples were collected from each group and was dispensed into heparinized bottles for plasma separation at day zero (day 0), 2, 4, 7, 14, 21, 28, 35, and 42 post-infection (pi) and was used for determination of hormones and electrolyte parameters. By day 7 post-infection, all birds in the infected group showed clinical signs typical of fowl typhoid, namely weakness, ruffled feathers, huddling together, somnolence, greenish-yellow diarrhea, weight loss, drop in egg production, decrease in feed and water consumption, and mortality rate (50%). There were, however, significant decrease in plasma calcium and phosphorus concentrations and significant increase in plasma estrogen and parathyroid hormone concentration in the
Salmonella Gallinarum
-infected layers. In conclusion, the decrease in plasma calcium and phosphorus concentrations observed in the
Salmonella Gallinarum
experimentally infected layers was a consequence of hepatic, renal, and gastrointestinal lesions and not due to endocrine dysfunction as plasma levels of the hormones did not suggest so.
×