01.12.2018 | Research | Ausgabe 1/2018 Open Access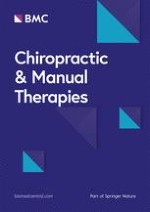 Can chiropractors contribute to work disability prevention through sickness absence management for musculoskeletal disorders? - a comparative qualitative case study in the Scandinavian context
Zeitschrift:
Autoren:

Mette Jensen Stochkendahl, Ole Kristoffer Larsen, Casper Glissmann Nim, Iben Axén, Julia Haraldsson, Ole Christian Kvammen, Corrie Myburgh
Abstract
Background
Despite extensive publication of clinical guidelines on how to manage musculoskeletal pain and back pain in particular, these efforts have not significantly translated into decreases in work disability due to musculoskeletal pain. Previous studies have indicated a potential for better outcomes by formalized, early referral to allied healthcare providers familiar with occupational health issues. Instances where allied healthcare providers of comparable professional characteristics, but with differing practice parameters, can highlight important social and organisational strategies useful for informing policy and practice. Currently, Norwegian chiropractors have legislated sickness certification rights, whereas their Danish and Swedish counterparts do not. Against the backdrop of legislative variation, we described, compared and contrasted the views and experiences of Scandinavian chiropractors engaging in work disability prevention and sickness absence management.
Methods
This study was embedded in a two-phased, sequential exploratory mixed-methods design. In a comparative qualitative case study design, we explored the experience of chiropractors regarding sickness absence management drawn from face-to-face, semi-structured interviews. We subsequently coded and thematically restructured their experiences and perceptions.
Results
Twelve interviews were conducted. Thematically, chiropractors' capacity to support patients in sickness absence management revolved around four key issues: issues of legislation and politics; the rationale for being a sickness absence management partner; whether an integrated sickness absence management pathway existed/could be created; and finally, the barriers to service provision for sickness absence management.
Conclusion
Allied health providers, in this instance chiropractors, with patient management expertise can fulfil a key role in sickness absence management and by extension work disability prevention when these practices are legislatively supported. In cases where these practices occur informally, however, practitioners face systemic-related issues and professional self-image challenges that tend to hamper them in fulfilling a more integrated role as providers of work disability prevention practices.