01.12.2017 | Research article | Ausgabe 1/2017 Open Access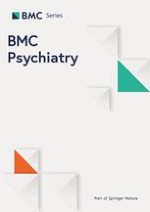 Can cognitive insight predict symptom remission in a first episode psychosis cohort?
Zeitschrift:
Autoren:

Jennifer A. O'Connor, Lyn Ellett, Olesya Ajnakina, Tabea Schoeler, Anna Kollliakou, Antonella Trotta, Benjamin D. Wiffen, Aurora M. Falcone, Marta Di Forti, Robin M. Murray, Sagnik Bhattacharyya, Anthony S. David
Background
Methods
Results
Descriptive baseline data
Table
1
describes the demographic, clinical and cognitive characteristics of this sample that completed follow-up at four-years after FEP (
n
 = 90). Participants were classified into eight different diagnostic categories according to the DSM IV. The most common diagnosis was schizophreniform disorder (28.8%) and the majority of participants (57.7%) were classified as having a non-affective psychosis. In terms of symptom severity, the mean PANSS positive and negative symptom subscale scores suggest that the average participant was 'mildly unwell' at baseline assessment. In terms of cognitive descriptive data, other than those reported in Table
1
, the self-reflective scale (SR) and the self-certainty scale (SC) scales were negatively correlated (
r
 = −.253). The mean IQ score was in the low-average range commensurate with previous FEP findings [
45
]. Nearly half the sample (45%) showed a JTC bias according to a <2 beads threshold, which is also consistent with previous FEP findings [
32
].
Table 1
Sample Characteristics (
N
 = 90)
Demographic characteristics

 Age, years:

Mean (sd)

29 (9.1)

 Gender

62% male

 Ethnicity (n)

  White British

24

  Black African

23

  Black Caribbean

15

  White European

8

  Mixed Race

9

  Asian

7

  Other

4

Clinical Characteristics

 Diagnosis (n)

  Schizophreniform disorder

26

  Manic episode with psychosis

16

  Schizophrenia

13

  Psychosis not otherwise specified

12

  Major depression with psychotic features

10

  Schizoaffective disorder depressed

8

  Schizoaffective disorder bi-polar

4

  Delusional disorder

1

 PANSS

Mean (sd)

  Positive symptoms

14 (5.8)

  Negative symptoms

15 (6.4)

Cognitive characteristics

 BCIS

Mean (sd)

  Composite Index

14.33 (14.05)

  Self-reflection

38.40 (9.72)

  Self-certainty

24.07 (7.97)

 IQ: Mean (sd)

90.39 (15.35)

 JTC a

4.94 (5.30)
Follow-up data
There were no significant differences between those who were traceable for 4-year follow-up assessment (
n
 = 90) versus those who had become untraceable at follow-up (
n
 = 21), with the exception of baseline GAF-S scores, in that those who were untraceable at follow-up had significantly more psychopathology at baseline:
t
(109) = −2.341,
p
 = 0.012. Compared to baseline, GAF symptom severity was significantly lower at 4-year follow-up (
t
(87) = −4.816,
p <
 0.001 respectively). A 4-years, the cohort mean GAF symptom score was above remission thresholds for FEP (>59) [
46
].
Main analysis
Correlation analysis was conducted to determine which baseline predictors should be entered into predictor models. Only variables that correlated significantly with GAF symptom outcome at 4 year follow-up as outlined above were entered into subsequent regression models. The GAF Time-0 symptom measure did not correlate with GAF symptoms as 4 year follow-up. GAF symptom scores at four-year follow-up were significantly correlated with baseline negative symptoms (
r
 = −.320) and diagnosis (r
pb
 = .294) such that less severe negative symptoms and an affective diagnosis at FEP onset was associated with decreased psychopathology at 4-year follow-up. Therefore these variables were entered into the hierarchical regression at step 1, and cognitive insight was entered at step 2. Overall, the model was significant and negative symptoms, diagnosis and cognitive insight accounted for approximately 15% of variance in symptom outcome [F(3,79) = 4.797, p = 0.002]. However, cognitive insight uniquely accounted for just 0.6% of variance in symptom outcome, which was not a significant individual contribution to the model [F (3, 79) = .585 p = 0.447 R
2
 = .148, adjusted R
2
 = .115)].
Post hoc analysis of the BCIS scales individually revealed that self-reflectiveness was significantly correlated with symptom outcome at 4-years such that greater ability to self-reflect was associated with less severe symptoms prospectively (
r
 = .25), although not cross-sectionally, at baseline (
r
 = −.09). Conversely, self-certainty did not correlate with symptom outcome at 4-years (
r
 = .021) although its relationship with symptoms cross-sectionally at baseline was nearing significance (
r
 = −.18,
p
 = 0.08).
The two BCIS subscales were entered separately in the regression model to identify unique contributions of self-reflectivity and self-certainty on symptom outcome at 4 years. Overall, the model was significant (
F
(4, 78) =5.258,
p
 = 0.046), and by entering the BCIS subscales separately, an increase in 6.5% of variance in symptom outcome was explained (adjusted R
2
 = .172). Higher scores on the self-reflectiveness sub-scale predicted significantly higher GAF-S scores (i.e. less severe psychopathology) at Time 2 follow-up (
t
(78) =2.324,
p =
 .023). The self-certainty sub-scale did not contribute significantly to the variance (
t
(78) =1.57,
p =
 .199). Table
2
reports the unique contribution of each variable entered into the regression model.
Table 2
Hierarchical regression to predict symptom severity at four-year follow up
| | Std β | T | p |
| --- | --- | --- | --- |
| Time 0 negative symptoms | −0.247 | −2.356 | 0.021 |
| Diagnoses a | 0.247 | 2.378 | 0.020 |
| BCIS self-reflective scale | 0.245 | 2.324 | 0.023 |
| BCIS self-certainty scale | 0.167 | 1.577 | 0.119 |
In summary, analyses of the BCIS scales individually revealed that self-reflectiveness was significantly correlated with symptom outcome
prospectively
. The self-certainty subscale was not associated with later symptom outcome, although its relationship with symptoms cross-sectionally at baseline approached significance (higher self-certainty related to greater concurrent symptom severity).
Finally, in terms of the BCIS subscales' relationship to other cognitive variables, the self-certainty items had a significant, though weak association with the JTC bias (
r
 = −.258) and IQ (
r
 = −.313) such that higher self-certainty was associated with a tendency to jump to conclusions, and lower IQ. Neither the JTC measure, nor IQ was significantly correlated with the BCIS self-reflective scale (
r
 = .029, and
r
 = .033 respectively).
Discussion
Cognitive insight (as measured by the BCIS composite score) did not predict symptom severity at four years post FEP, but the self-reflective sub-scale did. Participants who endorsed highly self-reflective behaviour, i.e. greater agreement with scale items such as, "
some of my experiences that have seemed very real may have been due to my imagination",
had fewer and less severe psychopathological symptoms at four-years after psychosis onset, compared to those individuals who did not endorse these items. Direct and indirect measures relating to confidence in judgement (BCIS self-certainty scale and JTC bias) did not contribute to symptom outcome, though these factors correlated significantly with each other, and IQ.
These findings contradict some previous studies, which found that the correlation between the combined cognitive insight construct and symptom outcome is stronger than that between individual subscales and symptom outcome [
8
,
9
,
47
]. However, previous studies have only examined the cross-sectional and short-term prospective relationships between the cognitive insight and symptom outcome and this is the first study to examine these relationships in the medium-term (four years) after FEP. This suggests a complex longitudinal relationship between the BCIS and clinical status, such that aspects of the BCIS measuring meta-cognitive thinking (self-reflective items) have a more
prospective
relationship to symptom experience, whereas those items indexing 'confidence in judgement' (self-certainty items) tend to correlate more highly to concurrent symptoms.
The converging associations between JTC, self-certainty and IQ support a growing body of evidence that reasoning processes are underpinned by general intellectual functions [
48
,
49
]. For instance, the literature suggests that schizophrenia and delusional prone participants tend to show 'overconfident judgement' in relation to their own objective 'errors', but they do not show the same level of conviction for their correct responses on tasks (see Balzan et al. for a review [
23
]). The association found between the JTC and BCIS self-certainty scale is also relevant to contention in the field as to whether the JTC beads task is measuring more than hasty decision making [
23
]. Our findings tentatively support the notion that the JTC Beads task is perhaps tapping into the same 'confidence in judgement' factor as the BCIS self-certainty scale.
Our, results also suggest that self-reflective aspects of thinking are unrelated to other measured cognitive constructs (JTC or IQ) consistent with reports from recent meta-analyses, that the BCIS self-reflective scale had fewer neuropsychological correlates than the self-certainty scale [
49
]
.
By virtue of its lack of correlation with neuropsychological function, poor self-reflective capacity may be more amenable to change through psychological support. Indeed, psycho-social interventions have been shown to change participant endorsement of the self-reflective scale items, but not self-certainty items [
9
,
50
,
51
].
It would be valuable to know whether self-reflection can predict the severity of some specific psychotic symptoms more than others (i.e. hallucinations vs. delusions). Understanding this would be particularly informative, given recent calls for the development of symptom-specific interventions in psychosis [
52
]. Indeed one previous CBT for psychosis intervention found that higher endorsement of the BCIS self-reflection items was associated with clinically significant delusional improvements, but was
not
linked to changes in hallucinations [
47
].
Our results should be considered in view of the limitations of the study. Follow-up assessment occurred when participants were willing to be interviewed, or when clinical records were available, and so did not always occur strictly within 4-year window. In terms of generalisability, those participants missing at follow-up did have significantly more severe psychopathology at baseline on the GAF symptom measure than those participants retained at follow-up. This may have caused some sample bias, but its effect on the strength of association with BCIS measures is unclear. Evidence suggests that acuteness of psychosis at illness-onset predicts
better
symptom outcomes [
53
], which means this study might be underestimating the rates of positive recovery outcomes [
54
]. Nevertheless, it seems unlikely that this identified difference between those lost at follow-up and the follow-up sample, impacted upon the main findings, given that the baseline GAF symptom severity was not a confounding variable in the regression model. Finally, it is unfortunate that data on BCIS and JTC were not collected at follow-up as it would have been useful to more directly measure the stability of these constructs over time.
Conclusion
Through employing a longitudinal design, we present evidence that subjective self-reflection has an important role in predicting symptom remission in early psychosis. These findings reveal a potentially important target for psychological intervention.
Acknowledgements
We would firstly like to thank every research participant who generously shared their time, energy and personal experience to make this research possible. We are grateful for the support of all GAP researchers, Principle Investigators and funders for their contribution and support of this study.
Funding
We acknowledge financial support from the Department of Health via the National Institute for Health Research (NIHR) Specialist Biomedical Research Centre for Mental Health award to South London and Maudsley NHS Foundation Trust (SLaM) and the Institute of Psychiatry, Psychology and Neuroscience at King's College London. Follow-up data collection was financially supported by a NIHR clinician scientist award to Sagnik Bhattacharyya. The views expressed are those of the author(s) and not necessarily those of the NHS, the NIHR or the Department of Health.
Availability of data and materials
The data are part of a continuing follow-up study which is part of a larger cohort supported by the NIHR Biomedical Research Centre, which will include additional psychosocial and biological measures. Once the data collection is complete the data will be made publically available through the BRC. In the meantime we are happy to share the data on which this analysis was based on request from bona fide researchers at no cost.
Authors' contributions
Authors JO, LE and AD designed the present study using data from the GAP project, and selecting the measures. JO collected, scored and input data, analysed and interpreted the findings and wrote the manuscript. OA, TS AK, AT, BW and MAF made substantial contributions to the acquisition of data, and assisted with analyses. Authors MDF, RM, SB and AD were the principle investigators for the project from which this study was derived; they assisted the interpretation of the findings and approved the final manuscript. All authors read and approved the final manuscript.
Competing interests
The authors declare that they have no competing interests.
Consent for publication
Not applicable.
Ethics approval and consent to participate
Full ethical approval was obtained from the Institute of Psychiatry and South London and Maudsley NHS Foundation Trust Research Ethics Committee (REC NO05/Q0706/158). Patients provided written consent to participate and were made aware that their involvement was voluntary and that they could refuse re-approach or withdraw from the study at any point without indicating reason and without impact on their ongoing clinical care. All study materials used were approved by the ethics committee and right to publish received.
Open Access
This article is distributed under the terms of the Creative Commons Attribution 4.0 International License (
http://​creativecommons.​org/​licenses/​by/​4.​0/​
), which permits unrestricted use, distribution, and reproduction in any medium, provided you give appropriate credit to the original author(s) and the source, provide a link to the Creative Commons license, and indicate if changes were made. The Creative Commons Public Domain Dedication waiver (
http://​creativecommons.​org/​publicdomain/​zero/​1.​0/​
) applies to the data made available in this article, unless otherwise stated.