01.12.2016 | Research article | Ausgabe 1/2016 Open Access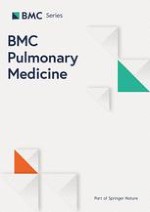 Can fiberoptic bronchoscopy be applied to critically ill patients treated with noninvasive ventilation for acute respiratory distress syndrome? Prospective observational study
Zeitschrift:
Autoren:

Pervin Korkmaz Ekren, Burcu Basarik Aydogan, Alev Gurgun, Mehmet Sezai Tasbakan, Feza Bacakoglu, Stefano Nava
Abstract
Background
Noninvasive ventilation (NIV) is a cornerstone for the treatment of acute respiratory failure of various etiologies. Using NIV is discussed in mild-to-moderate acute respiratory distress syndrome (ARDS) patients (PaO2/FiO2 > 150). These patients often have comorbidities that increase the risk for bronchoscopy related complications. The primary outcome of this prospective observational study was to evaluate the feasibility, safety and contribution in diagnosis and/or modification of the ongoing treatment of fiberoptic bronchoscopy (FOB) in patients with ARDS treated with NIV.
Methods
ARDS patients treated with NIV and who require FOB as the diagnostic or therapeutic procedure were included the study. Intensive care ventilators or other dedicated NIV ventilators were used. NIV was applied via simple oro-nasal mask or full-face mask. Pressure support or inspiratory positive airway pressure (IPAP), external positive end expiratory pressure (PEEP) or expiratory positive airway pressure (EPAP) levels were titrated to achieve an expiratory tidal volume of 8 to 10 ml/kg according to ideal body weight, SpO2 > 90 % and respiratory rate below 25/min.
Results
Twenty eight subjects (mean age 63.3 ± 15.9 years, 15 men, 13 women, PaO
2
/FiO
2
rate 145 ± 50.1 at admission) were included the study. Overall the procedure was well tolerated with only 5 (17.9 %) patients showing minor complications. There was no impairment in arterial blood gas and cardiopulmonary parameters after FOB. PaO
2
/FiO
2
rate increased from 132.2 ± 49.8 to 172.9 ± 63.2 (
p
 = 0.001). No patient was intubated within 2 h after the bronchoscopy. 10.7, 32.1 and 39.3 % of the patients required invasive mechanical ventilation after 8 h, 24 h and 48 h, respectively. Bronchoscopy provided diagnosis in 27 (96.4 %) patients. Appropriate treatment was decided according to the results of the bronchoscopic sampling in 20 (71.4 %) patients.
Conclusion
FOB under NIV could be considered as a feasible tool for diagnosis and guide for treatment of patients with ARDS treated via NIV in intensive care units. However, FOB-correlated life-treathening complications in severe hypoxemia should not be forgotten. Furthermore, further controlled studies involving a larger series of homogeneous ARDS patients undergoing FOB under NIV are needed to confirm these preliminary findings.