01.12.2015 | Original Article | Ausgabe 4/2015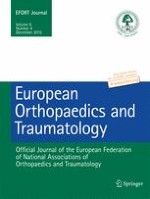 Can Khan's new method using MRI integrable to detect tibial plateau slope and depth as risk factors for anterior cruciate tear?
Zeitschrift:
Autoren:

Tarek Mohamed Ghandour, Amr Ahmed Abdelrahman, Alaa Talaat, Ahmad Mohammad Gahndour, Hesham Youssef El Gazzar
Abstract
Context
ACL injury continues to be the largest single problem in orthopedic sports medicine. MRI has become the prime diagnostic tool of the various knee pathological and anatomical variability conditions.
Aim
To test the integrity of the new combined method for assessment of tibial plateau anatomic variables using conventional MRI.
Settings and design
Retrospective control study.
Methods
We evaluated the medial tibial plateau slope (MTPS), lateral tibial plateau slope (LTPS), and medial tibial plateau depth (MTPD) in ACL-injured group of patients (156) and non-ACL-injured control group (93) using MRI scan. Inclusion criteria for ACL-injured group—as surgically confirmed—were isolated ACL injury, while inclusion criteria for non-ACL-injured group were minor trauma, bruises, etc.
Statistical analysis used
Student's
t
test and ICC were used. A
p
value of <0.05 was assigned as significant.
Results
Both male and female patients in the ACL-injured group showed increased LTPS in comparison to control group (
p
 = 0.0197), whereas no significant difference in MTPS and MTPD was detected (
p
 = 0.75 and 0.9, respectively). Steeper LTPS was detected in males of the patient group than in control group (
p
 = 0.0001). Control group males had less steep MTPS (
p
 = 0.002) and LTPS (
p
 = 0.035) and deeper MTPD (
p
 = 0.004) than control group females.
Conclusion
We conclude that the combined method conducted by Khan et al. (Int Orthop (SICOT)
2011
35(8):1251–1256) using conventional MRI for measurement of MTPS, LTPS, and MTPD as risk factors for ACL injury is solid and reproducible.
Level of evidence: III. Diagnostic study