18.05.2018 | Original Article | Ausgabe 1/2019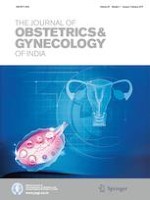 Can LBC Completely Replace Conventional Pap Smear in Developing Countries
Zeitschrift:
Autoren:

Vasundhara Kamineni, Priti Nair, Ashok Deshpande
Wichtige Hinweise
Vasundhara Kamineni is Professor and Head of department of Obstetrics and Gynaecology, KAMSRC, Hyderabad, India. Priti Nair was a postgraduate student in department of Obstetrics and Gynaecology, KAMSRC, Hyderabad. Ashok Deshpande is Professor and Head of department of Pathology, KAMSRC, Hyderabad, India.
Abstract
Background
A number of screening techniques have been developed to reduce the incidence of cervical cancer, most common of which is conventional Pap smear (CPS) being overtaken by liquid-based cytology (LBC) in most of the developed countries. There are a number of studies with conflicting results, and no method has been shown superior in terms of all parameters. LBC was introduced in our hospital in 2014, and we planned to do a study and compare results of the two techniques. This study aims to compare the two methods in terms of sensitivity, specificity, positive predictive value and negative predictive value, turnover time, cost-effectiveness, sample adequacy. This study has been done in 100 women with unhealthy cervix to increase the output.
Method
This was a prospective observational study. A total of 100 women fulfilling the inclusion criteria were subjected to screening test. In first 50 cases, first conventional Pap smear was taken and then LBC, and in remaining 50 cases, first LBC and then conventional Pap smear were taken; this was done to remove bias.
Results
The number of unsatisfactory slides was reduced with LBC, and turnover time was less for LBC. The detection of ASCUS was increased with LBC, but the detection of higher-grade lesions (HSIL and SCC) was equal with both tests.
Conclusion
The superiority of LBC with respect to reduction in the number of unsatisfactory slides and less turnover time is being offset with increased detection of low-grade lesions subjecting women to further testing increasing the cost of programme and anxiety among women. It is difficult to say that it can completely replace conventional Pap smear in low-resource settings.