29.04.2019 | Kidneys, Ureters, Bladder, Retroperitoneum | Ausgabe 8/2019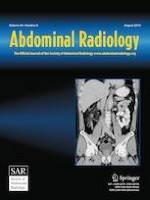 Can MRI be used to diagnose histologic grade in T1a (< 4 cm) clear cell renal cell carcinomas?
Zeitschrift:
Autoren:

Kevin Moran, Jorge Abreu-Gomez, Satheesh Krishna, Trevor A. Flood, Daniel Walker, Matthew D. F. McInnes, Nicola Schieda
Wichtige Hinweise
Publisher's Note
Springer Nature remains neutral with regard to jurisdictional claims in published maps and institutional affiliations.
Abstract
Objective
To assess whether MRI can differentiate low-grade from high-grade T1a cc-RCC.
Materials and methods
With IRB approval, 49 consecutive solid < 4 cm cc-RCC (low grade [Grade 1 or 2]
N
 = 38, high grade [Grade 3]
N
 = 11) with pre-operative MRI before nephrectomy were identified between 2013 and 2018. Tumor size, apparent diffusion coefficient (ADC) histogram analysis, enhancement wash-in and wash-out rates, and chemical shift signal intensity index (SI index) were assessed by a blinded radiologist. Subjectively, two blinded Radiologists also assessed for (1) microscopic fat, (2) homogeneity (5-point Likert scale), and (3) ADC signal (relative to renal cortex); discrepancies were resolved by consensus. Outcomes were studied using Chi square, multivariate analysis, logistic regression modeling, and ROC. Inter-observer agreement was assessed using Cohen's kappa.
Results
Tumor size was 24 ± 7 (13–39) mm with no association to grade (
p
 = 0.45). Among quantitative features studied, corticomedullary phase wash-in index (
p
 = 0.015), SI index (
p
 = 0.137), and tenth-centile ADC (
p
 = 0.049) were higher in low-grade tumors. 36.8% (14/38) low-grade tumors versus zero high-grade tumors demonstrated microscopic fat (
p
 = 0.015; Kappa = 0.67). Microscopic fat was specific for low-grade disease (100.0% [71.5–100.0]) with low sensitivity (36.8% [21.8–54.6]). Other subjective features did not differ between groups (
p
 > 0.05). A logistic regression model combining microscopic fat + wash-in index + tenth-centile-ADC yielded area under ROC curve 0.98 (Confidence Intervals 0.94–1.0) with sensitivity/specificity 87.5%/100%.
Conclusion
The combination of microscopic fat, higher corticomedullary phase wash-in and higher tenth-centile ADC is highly accurate for diagnosis of low-grade disease among T1a clear cell RCC.