01.12.2017 | Case report | Ausgabe 1/2017 Open Access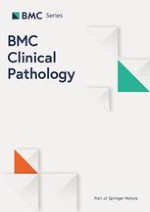 Can takotsubo cardiomyopathy be diagnosed by autopsy? Report of a presumed case presenting as cardiac rupture
Zeitschrift:
Autoren:

Andrew Mitchell, François Marquis
Abstract
Background
Takostsubo (stress) cardiomyopathy (TC) is a clinical syndrome featuring transient left ventricular dysfunction and wall-motion abnormalities, usually following emotional or physical stress. The diagnosis of TC depends on fulfillment of multiple clinical criteria. Although the pathogenesis has not been firmly established, myocardial cathecholamine toxicity is thought to represent a primary mechanism.
The vast majority of patients with TC survive. However, a rare cause of death in TC is myocardial rupture. All documented cases of rupture have followed known, recently diagnosed or suspected TC. However, in this report we propose that an initial diagnosis of TC with myocardial rupture can be made by autopsy when supported by a compelling clinical history and appropriate histologic changes in the myocardium.
Case presentation
An 82 year-old female underwent elective craniotomy for a recently discovered craniopharyngioma. The surgery was uneventful; the initial postoperative course featured diabetes insipidus and delirium. With no prior warning, on the third postoperative day she was found unresponsive in bed. Two prolonged cardiopulmonary resuscitations were successful, however, during a third arrest maneuvers were stopped at the request of the family. An autopsy was conducted which revealed hemopericardium due to cardiac rupture. Coronary artery atherosclerosis, valve disease, and renal and extra-renal pheochromocytoma were absent. Microscopy of the myocardium showed a recent, localized, transmural myocardial infarction and diffuse changes (all four ventricles) typical of cathecholamine cardiomyopathy. The findings were considered compatible with TC with secondary myocardial rupture.
Conclusion
An initial diagnosis of TC with myocardial rupture can be reasonably made by autopsy in the context of an appropriate clinical history and the presence of the characteristic microscopic features of cathecholamine excess in the myocardium.