10.11.2017 | Original Article | Ausgabe 12/2017 Open Access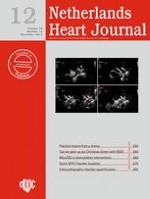 Can we spice up our Christmas dinner?
Busting the myth of the 'Chinese restaurant syndrome'
Zeitschrift:
Autoren:

N. W. E. van den Berg, J. Neefs, W. R. Berger, S. W. E. Baalman, E. Meulendijks, M. Kawasaki, E. M. Kemper, F. R. Piersma, M. W. Veldkamp, R. Wesselink, S. P. J. Krul, J. R. de Groot
Wichtige Hinweise
Electronic supplementary material
Both Van den Berg and Neefs are first author of the manuscript, as they have written the manuscript together.
S.P.J. Krul and J.R. de Groot contributed equally to the manuscript.
All authors have contributed to the conception of the study, have either drafted or critically reviewed the manuscript and all have approved the final version of the manuscript.
Abstract
Background
Monosodium glutamate (MSG), also referred to as Vetsin or E621, is a flavour enhancer frequently used in Asian cuisine and abundantly present in the famous Chinese dish
Peking duck.
MSG is notorious for triggering the onset of the so-called 'Chinese restaurant syndrome' (CRS), a complex of unpleasant symptoms, which might include flushing, sweating and the onset of atrial fibrillation (AF). This study aims to determine the effects of MSG on the occurrence of AF.
Methods
We conducted a placebo self-controlled single-arm study in the Academic Medical Centre in Amsterdam. We included paroxysmal AF patients who reported a consistent onset of AF upon MSG intake. During three admissions, participants were subsequently administered: placebo, 1.5 g and 3 g MSG. If AF was recorded after the dose of 1.5 g MSG, patients were given another placebo instead of 3 g MSG. The primary outcome was the onset of AF registered by 24-hour Holter monitoring. The secondary outcomes were any other arrhythmia and the onset of CRS defined as two or more symptoms of CRS after MSG intake.
Results
Six men participated in the study. Both 1.5 g and 3 g MSG were unrelated to CRS, arrhythmias or AF occurrence.
Conclusion
Peking duck
can be put on the Christmas menu without risking guests to be admitted to the emergency department with new episodes of AF.