15.03.2016 | Original Article | Ausgabe 8/2016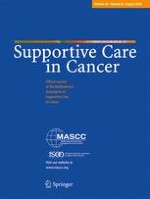 Cancer and fertility preservation in Puerto Rico: a qualitative study of healthcare provider perceptions
Zeitschrift:
Autoren:

Karen E. Dyer, Gwendolyn P. Quinn
Wichtige Hinweise
Relevance for research, policies, and programs
Steep inequalities in access to infertility treatments are evident both in the USA and worldwide. Social scientists have argued that emerging disparities in access to fertility preservation are likely to parallel documented class- and race-based disparities in cancer incidence, mortality, and treatment. Few studies have examined fertility preservation outside of the mainland USA and high-income Western European countries, especially in more resource-limited settings like Puerto Rico. This gap has limited our knowledge about how cancer patients are able to use these critical supportive care resources and what specific infrastructural and contextual factors are most important in influencing access. While it is intuitive that barriers and challenges do vary cross-culturally and cross-nationally, there are likely some shared barriers and challenges across settings worldwide. The identification of such barriers is the essential first step in conceptualizing effective, broadly applicable interventions.
Abstract
Purpose
This study aims to examine healthcare provider perceptions of cancer-related infertility and fertility preservation (FP) in an underserved population and to highlight cognitive and structural barriers to use.
Methods
In-depth, semi-structured interviews were conducted with a sample of 16 healthcare providers participating in a larger ethnographic study on cancer survivorship and cancer-related infertility in Puerto Rico, an unincorporated US territory. Interviews were conducted in-person, audio-recorded, transcribed verbatim, and coded using the constant comparative method.
Results
Providers identified several barriers to FP in Puerto Rico: high cost in relation to income levels, lack of insurance coverage, gaps in provider knowledge of fertility clinics and financial assistance, lower prioritization of quality-of-life needs leading to inconsistent physician disclosure of fertility risks, geographical location of fertility clinics, and logistical challenges to maintaining FP offerings. Two factors act as facilitators: a high value placed on patient-provider communication and relationships and the formation of local alliances between the oncology and reproductive medicine fields, potentially leading to increased cross-specialty communication and referral.
Conclusions
Infertility is a continuing source of distress for cancer patients and survivors, and barriers to FP vary cross-culturally. In Puerto Rico, context-specific factors indicate potential areas of intervention. Greater awareness of fertility risks and options can be fostered through physician training in conjunction with organizational measures targeting cost barriers.