01.12.2017 | Research article | Ausgabe 1/2017 Open Access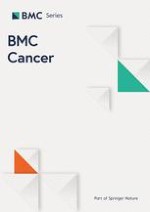 Cancer incidence in eastern Morocco: cancer patterns and incidence trends, 2005–2012
Zeitschrift:
Autoren:

Manal Elidrissi Errahhali, Mounia Elidrissi Errahhali, Meryem Ouarzane, Redouane Boulouiz, Mohammed Bellaoui
Abbreviations
HCP
High Commission for Planning
HM
hematological malignancies.
IARC
International Agency for Research on Cancer
ICD-O
International classification of diseases for Oncology
ROC
Hassan II Regional Oncology Center
WHO
World health organization
Background
According to WHO estimates, cancer causes more deaths than all cardiovascular diseases [
1
]. Therefore, cancer has become a major public health problem worldwide [
2
,
3
]. The most common tumors worldwide were lung cancer with 1.8 million cases (13.0% of total), breast cancer with 1.7 million cases (11.9% of total) and the colorectal cancer with 1.4 million cases (9.7% of total). Similarly, cancers that cause the highest rate of deaths are cancers of the lung (1.6 million deaths, 19.4% of total), liver (0.8 million deaths, 9.1% of total) and stomach (0.7 million deaths, or 8.8% of total) [
1
]. In 2012, the overall cancer burden reached 14.1 million new cases compared to 12.7 million in 2008 [
4
,
5
]. Similarly, 8.2 million deaths have been attributed to cancer during 2012 (13% of all deaths worldwide) compared to 7.6 million deaths in 2008 [
4
,
5
].
In 2012, more than half of all cancer cases (56.8%) and deaths caused by cancer (64.9%) were recorded in the least developed regions of the world [
1
]. For example in Africa, there were 846,961 cases of cancer and 591,161 cancer deaths in 2012 [
1
]. Accordingly, epidemiologic studies predict 1.2 million new cancer cases in Africa with more than 970,000 deaths by 2030 if adequate control and prevention measures are not taken promptly [
1
,
6
].
In Morocco, cancer is a major health problem and it is the second leading cause of mortality after cardiovascular diseases with 10.7% of all deaths [
7
]. However, there are only two population-based cancer registries in Morocco at the present time. The Casablanca registry was founded in March 2003 and the Rabat registry was created in January 2005. These registries have provided important information on cancer patterns in western Morocco [
8
–
12
]. In Eastern Morocco, nothing is known about cancer incidence and therefore, in this study, we report for the first time the cancer incidence trends, the distribution and the socioeconomic profile of incident cancer cases in Eastern Morocco over a period of eight years between 2005 and 2012.
Methods
Setting
Eastern Morocco is located in the north east of the kingdom of Morocco. According to the High Commission for Planning (HCP), Eastern Morocco had a population of over 2 million in 2013, which is equivalent to 6.2% of the total population of the Kingdom. The population is mainly urban (67% vs. 33% rural) and young, nearly 6 out of 10 people are under 30 years [
13
–
16
].
Our retrospective study was based on all incident cases that were registered at the Hassan II Regional Oncology Center, since it was created in October 2005 until December 2012. During the study period, the Hassan II Regional Oncology Center (ROC) was the only health care facility for management of all solid cancer cases among adult patients in Eastern Morocco.While during this period, childhood cancer cases were treated in other health care facilities in the capital of Morocco (Rabat). However, hematological malignancies (HM) were managed in different centres: Al-Farabi Regional Hospital, Boussif Diagnostic Center, ROC, and some health care facilities in Rabat [
13
,
15
].
Data collection and cancer classification
The data were collected from patient medical records, pathology records and admission records. The registrations are considered microscopically verified when the diagnosis is based on a malignant histological or cytological reports. The majority (98%) of the cases were microscopically verified. We excluded from the study patients for whom the proof of cancer could not be made or the medical file is incomplete or unexploitable. The borderline tumors and cases of intraepithelial neoplasia were also excluded from the study. Patients who do not reside in Eastern Morocco or for whom the place of residence was not specified were also excluded from the analysis.
We followed the registration rules, defined by the International Agency for Research on Cancer (IARC). The registered cases were coded according to the third edition of the International Classification of Diseases for Oncology (ICD-O-3) [
17
]. For tabulation of results, these were converted to the 10th revision of the ICD-O [
18
]. A form has been used for collecting information recorded on each case, such as the record number, name and surname of the patient, gender, age, family status, occupation, place of residence, health insurance, basis of diagnosis, tumor site and histology, incident date, and age at diagnosis. Gender has been indicated for all cases reported to the Hassan II Regional Oncology Center during the period of the study. However, age was not reported for 2.07% of men and 2.35% of women.
Analysis
Data collection was performed on Excel. Statistical analysis was performed using SPSS software version 21.0. Crude incidence rates (CR) and Age-specific incidence rates (Ai) were calculated as previously described [
19
,
20
]. The rates were expressed per 100,000 person per year [
21
]. Incidence cases which were registered during the period between January 2006 and December 2012 were used for the calculation of the incidence rates. National population censuses are conducted in Morocco every 10 years, and the HCP provides estimates of the growth rate of the Moroccan population for each year. In this paper, the census conducted in 2004 was used to elaborate the estimates of the population of Eastern Morocco during the period from 2006 to 2012. The annual percent change (APC) was calculated as previously described [
21
,
22
] using the formula: APC = [exp (β) - 1] × 100, where β is the parameter estimate obtained on fitting period of event as a continuous variable to the logarithm of the rate. For the Chi-squared test, the results are considered significant when p (degree of significance) is less than 0.05, very significant when
p
< 0.01 and highly significant when
p
< 0.001.
Results
Discussion
Conclusion
In the absence of a cancer registry in Eastern Morocco, it is difficult to understand the epidemiology of this disease and develop programs for cancer control and prevention. Since Hassan II Regional Oncology Center was the only specialized cancer hospital for cancer management in Eastern Morocco during the study period, these results are of great value and provide a valuable tool for cancer control and prevention in Eastern Morocco. Our results confirm the gravity of this problem, and provide epidemiological knowledge about cancer which is necessary for health care planning. This work is of great interest to the health system since any prevention policy cannot be implemented without epidemiological studies and very thorough statistical analysis. Indeed, the rates of many cancers are rising and require the development of effective programs for cancer control and prevention. A better and easier access to cancer care is a priority, given that the majority of patients who are treated in the Regional Oncology Center are unemployed, and do not have medical care coverage. It is also essential to initiate the establishment of a regional cancer registry to allow the surveillance of cancer trends and to plan a program for cancer control and prevention in Eastern Morocco.
Acknowledgments
We are grateful to the clinical team and to all administrative staff at the Hassan II Regional Oncology Center of Oujda for their support. We thank the president of Mohammed Premier University, Dr. M. Benkaddour, and the Regional Director of the Ministry of Health in Eastern Morocco for their support. We are grateful to Dr. A. Azzouzi and all the administrative staff of the Faculty of Medicine and Pharmacy of Oujda for their valuable support and encouragement throughout the entire work.
Funding
No funding was received for this study.
Availability of data and materials
The datasets used and/or analyzed during the current study are available from the corresponding author on reasonable request.
Ethics approval and consent to participate
Our study protocol was ethically approved by the Ethical Review Committee for Biomedical Research of the Faculty of Medicine and Pharmacy of Casablanca under the number 41/14. In this study, because obtaining informed consent was not possible, we were granted a waiver of consent by the Ethical Review Committee. Patient records/information was anonymized and de-identified prior to analysis. The authorization for personal data processing was obtained from the National Commission of control of Personal Data Protection under the number A-RS-280/2014).
Consent for publication
Not Applicable.
Competing interests
The authors declare that they have no competing interests.
Publisher's Note
Springer Nature remains neutral with regard to jurisdictional claims in published maps and institutional affiliations.
Open Access
This article is distributed under the terms of the Creative Commons Attribution 4.0 International License (
http://​creativecommons.​org/​licenses/​by/​4.​0/​
), which permits unrestricted use, distribution, and reproduction in any medium, provided you give appropriate credit to the original author(s) and the source, provide a link to the Creative Commons license, and indicate if changes were made. The Creative Commons Public Domain Dedication waiver (
http://​creativecommons.​org/​publicdomain/​zero/​1.​0/​
) applies to the data made available in this article, unless otherwise stated.