01.12.2017 | Research article | Ausgabe 1/2017 Open Access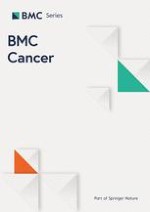 Cancer mortality in former East and West Germany: a story of unification?
Zeitschrift:
Autoren:

Daniel Medenwald, Dirk Vordermark, Christian T. Dietzel
Wichtige Hinweise
Electronic supplementary material
The online version of this article (doi:
10.​1186/​s12885-017-3086-y
) contains supplementary material, which is available to authorized users.
Abbreviations
ACRS
Age and cancer site case-mix standardized relative survival
ARIMA
Autoregressive integrated moving average
FBS
Federal bureau of statistics
FRG
Federal Republic of Germany
GDR
German Democratic Republic
NCI
National cancer institute
Background
An interesting question not answered by recent publications is whether Eastern Germany will eventually overtake the rest of the country regarding cancer survival. The goal of this study is to model future projections of mortality by analysis and comparison of both West and East Germany using the method of time series analysis.
Methods
Statistical analysis
Mortality data
The annual mortality data of all recorded deaths in Germany published by the Federal Bureau of Statistics (FBS) was taken into account (Gesundheitsberichterstattung des Bundes,
www.​gbe-bund.​de
). The available period encompasses the time between 1980 and 2014 for former West Germany and 1990 to 2014 for former East Germany. We computed sex-specific mortality rates (per 100,000 inhabitants) after age standardization (world standard population) separately for East and West Germany. A direct age standardization approach with five-year age intervals was used for each separate cancer. In all analyses distinguishing between both areas of Germany, the area of Berlin was excluded. This was due to a divided Berlin; one part belonged to West Germany and the other to the former East Germany. Mortality data released by the FBS referred to the unified area of Berlin without differentiating between its former parts. Eventually, the area of Berlin was considered in an additional analysis which is presented in the supplement.
We focused on the three most common types of cancer-related deaths in Germany: lung cancer, colorectal cancer, and prostate cancer in men and breast cancer in women (Gesundheitsberichterstattung des Bundes,
www.​gbe-bund.​de
).
Time series analysis and forecasting
Time series analysis and autoregressive integrated moving average (ARIMA) were used for statistical analyses. Model identification was based on the algorithm introduced by Box and Jenkins [
6
,
7
]. Details of model identification and parameter estimation, including the order of the selected ARIMA models, are provided in the Additional file
1
. Based on the most parsimonious ARIMA model (requiring the least moving average and autoregressive terms) that was in accordance with the Box/Jenkins approach, we applied the "predict" function in R which uses an approach based on the Kalman filter to forecast future mortality rates until the year 2019. This function also displayed their respective 95% confidence intervals.
To compare East and West Germany we computed the ratio of the mortality rates in both areas (referred to as mortality rate ratio, MRR). Both mortality rates and MRRs underwent log transformation during statistical analyses but were eventually re-transformed for illustrative purposes. Similar to age-adjusted mortality, we performed a time series analysis to forecast future MRR and a joinpoint analysis considering the historical MRR data.
Joinpoint analysis
In addition to the time series analysis, we examined the linear trends of the time series by means of a regression based approach with time as the explanatory variable. A joinpoint analysis was performed to identify time points when alterations in the linear trend appear in the time series [
8
]. We performed a permutation test with 2000 permutations allowing for a maximum of four join points (trend alterations). Joinpoint analyses were performed using the software package Joinpoint 4.2.0.2 developed by the Statistical Research and Applications Branch, National Cancer Institute (NCI). The software can be complimentarily downloaded from the NCI webpage (
http://​surveillance.​cancer.​gov/​joinpoint
).
Internal validation
An internal validation was performed to assess the possible bias and the precision of the five year forecast models by comparing the predicted with the observed mortality from 2010–2014.
Sensitivity analysis
To estimate the impact of a possible disturbance in the reported mortality by rearrangements in the coding system during the transition period, we performed a sensitivity analysis where the early years from 1990–1995 were excluded from the East German mortality data.
Results
Discussion
At first glance, the steep rise in cancer mortality after the reunification of East Germany seems implausible. General health care was expected to have improved during this period of time in East Germany, and the physiology of cancer renders fast changes in mortality impossible. The actual cause for this might be based on the different coding systems that the GDR and FRG used in order to register causes of death [
10
,
11
]. The structure of the GDR´s coding system is supposed to have led to underreported cancer mortality before 1990 due to subjective evaluation of the leading cause of death by the certifying doctor. Thus, the adoption of West Germany's coding practice led to a more precise evaluation. The effect seems to be more pronounced in East German men, which is likely affected by the overall higher cancer mortality in this group.
Though there was a trend of young, healthy, and well-educated East Germans migrating to West Germany especially in 1989/1990 ("selective migration"), the influence of this population shift on overall mortality remains uncertain [
11
,
12
]. For all cancer types, migration might be a factor that contributes to the observed results. However, in this case migration should bias towards cancer. That is, conditioning on age, people that were less likely to get cancer should have been more likely to migrate to West Germany. We expected a sharp decline in cancer mortality after reunification, which is not supported by the data. The typical late age at the time of diagnosis made it unlikely that the vast majority of potential cases moved to either part of Germany. This line of thought is more comprehensively followed in Luy et al.
Lung cancer
Colorectal cancer
A triad of improved early detection of disease, new treatment options for more advanced stages, and a healthier lifestyle in general may have driven the results.
Breast cancer
Numerous factors contributed to the general mortality decrease during recent decades throughout Germany for breast cancer patients.
Prostate cancer
Our findings illustrated a constant decline in prostate cancer mortality. However, research revealed that the age-standardized incidence of prostate cancer cumulated in the year 2007 (Rate: 120.6 per 100,000 inhabitants) and declined in later years (106.7/100,000 inhabitants in 2012), which thus cannot serve as an explanation for our observations [
39
].
As prostate cancer is rarely affected by life style factors, an increasingly advantageous effect of secondary prevention and/or therapy might account for the observed mortality decline.
According to a German study that used register data from the Munich area, both of these factors contributed to the favourable mortality data. The authors stated that a broader application of the PSA screening resulted in the detection of small tumours and thus a higher proportion of earlier T categories, from capsule-exceeding to capsule-respecting (proportion of T1 increased from 14% to 32%). They also concluded that a change towards more radical therapy regimens (from 20% to 50% from 1990 to 2010) led to improved survival [
40
].
Limitations
As a mere ecological study, this research cannot infer any causal relations. The forecasts are based on previous observations, thus future public health interventions or treatment advances will have an additional effect that cannot be modelled in the present study. However, past trends were continuous for all considered cancer types and no leaps were observed that could be attributed to any particular intervention (public health or treatment). Such a continuous time series can well be modelled by means of time series analyses. In this context it must be stated that statistical uncertainty for the majority of forecasts was considerable, as reflected by the wide confidence intervals.
Conclusion
The overall trends and courses of cancer mortality were similar between East and West Germany, though the existing differences are likely to continue in the near future.
Acknowledgements
None
Funding
The study received no funding.
Availability of data and materials
Authors' contributions
DM: performed the data analyses, wrote parts of the manuscript (methods, results, discussion). DV: revised the manuscript critically, CTD: wrote parts of the manuscript (introduction, discussion, results). All authors have read and approved the final version of the manuscript.
Competing interests
The authors declare that they have no competing interests. DV is Section Editor of BMC Cancer.
Consent for publication
Not applicable from other institutions. Consent for publication given by all authors.
Ethics approval and consent to participate
Not applicable
Open Access
This article is distributed under the terms of the Creative Commons Attribution 4.0 International License (
http://​creativecommons.​org/​licenses/​by/​4.​0/​
), which permits unrestricted use, distribution, and reproduction in any medium, provided you give appropriate credit to the original author(s) and the source, provide a link to the Creative Commons license, and indicate if changes were made. The Creative Commons Public Domain Dedication waiver (
http://​creativecommons.​org/​publicdomain/​zero/​1.​0/​
) applies to the data made available in this article, unless otherwise stated.