01.12.2020 | Research | Ausgabe 1/2020 Open Access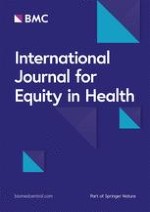 Cancer screening among racial/ethnic groups in health centers
Zeitschrift:
Autoren:

De-Chih Lee, Hailun Liang, Nanqian Chen, Leiyu Shi, Ying Liu
Wichtige Hinweise
Publisher's Note
Springer Nature remains neutral with regard to jurisdictional claims in published maps and institutional affiliations.
Introduction
This study aims to measure the rates of receiving three types of cancer screening services among patients seen at HCs to investigate if cancer screening among patients varies by race/ethnicity, and to test if cancer prevention provided by HCs could mitigate health disparities caused by racial/ethnic differences. We used data from the 2014 Health Center Patient Survey, which was the latest and most nationally representative survey of U.S. HC patients. Differences between the racial/ethnic groups of HC patients can help shed light on the implications of the role of HCs in providing a usual source of care to all patients and in promoting health care equity.
Methods
Data sources
We analyzed data from the 2014 Health Center Patient Survey. The Health Center Patient Survey is a person-administrated survey of Health Center Program patients. It is unique in its focus on comprehensive patient-level data and its design to provide a nationally representative view of patients served by grantees under Section 330 of the Public Health Service Act. It was conducted in 1998, 2002, 2009, and 2014, developed by the U.S. government Health Resources and Services Administration under the Department of Health and Human Services. The Patient Survey implemented a three-stage sampling design. First, 169 HC grantees were recruited, then 520 HC sites were contacted operating within those participating grantees, and lastly, 7002 patient interviews were conducted. The 2014 Health Center Patient Survey had a probability sample of 7002 patients representing over 22 million patients seen at HCs during 2014. We included samples age 21 and above. The final sample size of the study was 5453.
Measures
In this study, we examined three cancer screening indicators as our dependent variables, which represent commonly used measures of preventive care utilization. The age to begin screening is in accordance with the standard for health insurance coverage under the Affordable Care Act (or commonly called Obama Care). All these measures were coded as dichotomous variables ("recent screening = 1" or "no screening = 0"). The three preventive measures included (a) receiving a Pap test in the past 3 years among women age 21 to 70, (b) receiving a mammogram in the past 2 years among women age 40 and older, and (c) receiving a colonoscopy/sigmoidoscopy in the past 10 years or fecal occult blood test in the past year among adults age 50 and older. The main independent variables of interest were race/ethnicity categories, including non-Hispanic White, Hispanic or Latino, non-Hispanic African American, and others.
We used the access-to-care model of Aday et al. [
1
] to select covariates potentially associated with the outcome measures. The covariates were categorized as predisposing (including age, gender, education level, weight and tobacco use), enabling (including health insurance status and usual source of care) and need factors (including personal history of cancer). These variables were coded as follows: age (continuous), gender (male versus female), education level (below high school versus high school graduate), body mass index (BMI) (normal/overweight/obese), current smoker (yes versus no), currently insured (yes versus no), usual source of care (yes versus no), and personal history of cancer (yes versus no).
Statistical analysis
Using a cross-sectional analysis of the data, we first described patient characteristics and receipt of preventive services across racial/ethnic groups of HC patients. Next, we used regression analyses to identify the associations between race/ethnicity and cancer screening, controlling for patients' other sociodemographic and health-related characteristics. In each model, we used simple logistic regression to assess the racial/ethnic disparities on cancer screening, and additionally adjusted for potentially confounding factors including age, gender, education level, weight, current smoker/cigarettes, currently insured, usual source of care, and personal history of cancer. The 2014 Health Center Patient Survey was based on a complex survey design, which applied a three-stage sampling design (HC grantees – HC sites - patients) to reflect a nesting structure. Using Stata/SE version 14.0, statistical analyses were performed while accounting for the complex sampling design. Two-tailed
P
values less than or equal to 0.05 were considered statistically significant.
Results
Discussion
There were several limitations with this study. First, due to the cross-sectional nature of the survey data, we cannot make causal inferences from the findings. Second, although our analyses accounted for various potential confounding factors, we may have overlooked other factors related to the outcome indicators due to the limitation of secondary data. Third, the data were collected through self-reported surveys, which may be subject to recall or response biases. Because of the long period for colorectal cancer screening measure (e.g., colonoscopy/sigmoidoscopy screening in the past 10 years), there is a good chance that patients could have received the services at a time when they were not health center patients. Moreover, the included patients in this survey were those who had visited a HC at least once in the past year. This aspect of the study may have excluded the most vulnerable and underserved patients. Future studies may use quasi-experiment design and include this subgroup to make more rigorous estimations.
One strength of the study was its representativeness by using U.S. nationwide patient-level data of HC patients. Our study is the most recent national study to assess the differences in receipt of cancer preventive services among patients seen by HCs, who are a subpopulation of the nation's most vulnerable and underserved populations. We found that this group of patients is able to receive a comparable level of cancer prevention compared with the general American population. Moreover, our findings suggest that federally qualified health centers play an integral role in providing equitable access to preventive services. Therefore, HCs are uniquely positioned to lead efforts to provide opportunities for reducing mortality and morbidity among HC populations by ensuring early screening and detection among this vulnerable segment of the population.
Acknowledgements
Not applicable.
Ethics approval and consent to participate
Not applicable.
Consent for publication
Not applicable.
Competing interests
The authors declare that they have no competing interests.
Open Access
This article is licensed under a Creative Commons Attribution 4.0 International License, which permits use, sharing, adaptation, distribution and reproduction in any medium or format, as long as you give appropriate credit to the original author(s) and the source, provide a link to the Creative Commons licence, and indicate if changes were made. The images or other third party material in this article are included in the article's Creative Commons licence, unless indicated otherwise in a credit line to the material. If material is not included in the article's Creative Commons licence and your intended use is not permitted by statutory regulation or exceeds the permitted use, you will need to obtain permission directly from the copyright holder. To view a copy of this licence, visit
http://​creativecommons.​org/​licenses/​by/​4.​0/​
. The Creative Commons Public Domain Dedication waiver (
http://​creativecommons.​org/​publicdomain/​zero/​1.​0/​
) applies to the data made available in this article, unless otherwise stated in a credit line to the data.
Publisher's Note
Springer Nature remains neutral with regard to jurisdictional claims in published maps and institutional affiliations.