01.12.2012 | Primary research | Ausgabe 1/2012 Open Access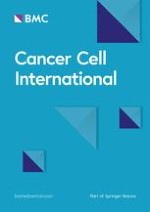 Cancer stem cells from a rare form of glioblastoma multiforme involving the neurogenic ventricular wall
Zeitschrift:
Autoren:

Shengwen Calvin Li, Long T Vu, Hector W Ho, Hong Zhen Yin, Vic Keschrumrus, Qiang Lu, Jun Wang, Heying Zhang, Zhiwei Ma, Alexander Stover, John H Weiss, Philip H Schwartz, William G Loudon
Wichtige Hinweise
Electronic supplementary material
The online version of this article (doi:
10.​1186/​1475-2867-12-41
) contains supplementary material, which is available to authorized users.
Competing interests
The authors declare that they have no competing interests.
Authors' contributions
SCL conceived of the study, designed with coordination, carried out tumor processing and CSC isolation and in vitro and ex vivo culture, and drafted the manuscript. LTV carried out the PCR and Western blotting studies. HWH and WGL performed the surgery and analyzed MRI images. VK carried out the immunocytochemistry with technical help from AS. ZM performed all pathological analyses. QL, JW, and HZ carried out in vivo studies. HZY and JHW helped perform ex vivo studies. PHS participated in neural stem cell culture and advised on editing of the manuscript. WGL advised on conceiving of the study, participated in its design and coordination, and helped draft the manuscript. All authors read, revised, and approved the final manuscript.
Abstract
Background
The cancer stem cell (CSC) hypothesis posits that deregulated neural stem cells (NSCs) form the basis of brain tumors such as glioblastoma multiforme (GBM). GBM, however, usually forms in the cerebral white matter while normal NSCs reside in subventricular and hippocampal regions. We attempted to characterize CSCs from a rare form of glioblastoma multiforme involving the neurogenic ventricular wall.
Methods
We described isolating CSCs from a GBM involving the lateral ventricles and characterized these cells with in vitro molecular biomarker profiling, cellular behavior, ex vivo and in vivo techniques.
Results
The patient's MRI revealed a heterogeneous mass with associated edema, involving the left subventricular zone. Histological examination of the tumor established it as being a high-grade glial neoplasm, characterized by polygonal and fusiform cells with marked nuclear atypia, amphophilic cytoplasm, prominent nucleoli, frequent mitotic figures, irregular zones of necrosis and vascular hyperplasia. Recurrence of the tumor occurred shortly after the surgical resection. CD133-positive cells, isolated from the tumor, expressed stem cell markers including nestin, CD133, Ki67, Sox2, EFNB1, EFNB2, EFNB3, Cav-1, Musashi, Nucleostemin, Notch 2, Notch 4, and Pax6. Biomarkers expressed in differentiated cells included Cathepsin L, Cathepsin B, Mucin18, Mucin24, c-Myc, NSE, and TIMP1. Expression of unique cancer-related transcripts in these CD133-positive cells, such as caveolin-1 and −2, do not appear to have been previously reported in the literature. Ex vivo organotypic brain slice co-culture showed that the CD133+ cells behaved like tumor cells. The CD133-positive cells also induced tumor formation when they were stereotactically transplanted into the brains of the immune-deficient NOD/SCID mice.
Conclusions
This brain tumor involving the neurogenic lateral ventricular wall was comprised of tumor-forming, CD133-positive cancer stem cells, which are likely the driving force for the rapid recurrence of the tumor in the patient.