01.12.2016 | Research article | Ausgabe 1/2016 Open Access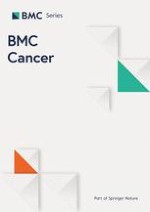 Capsaicin mediates caspases activation and induces apoptosis through P38 and JNK MAPK pathways in human renal carcinoma
Zeitschrift:
Autoren:

Tao Liu, Gang Wang, Huangheng Tao, Zhonghua Yang, Yongzhi Wang, Zhe Meng, Rui Cao, Yu Xiao, Xinghuan Wang, Jiajie Zhou
Wichtige Hinweise
Electronic supplementary material
The online version of this article (doi:
10.​1186/​s12885-016-2831-y
) contains supplementary material, which is available to authorized users.
Abstract
Background
Renal cell carcinoma (RCC) is one of the tumors most refractory to chemotherapy to date. Therefore, novel therapeutic agents are urgently needed for this disease. Capsaicin (CPS), a natural active ingredient of green and red peppers, and a ligand of transient receptor potential vanilloid type 1 (TRPV1), has been showed potential in suppression of tumorigenesis of several cancers. Nonetheless, the anti-cancer activity of CPS has never been studied in human RCC.
Methods
CCK8 analysis, LDH release activity and ROS generation analysis, flow cytometry analysis, and nuclear staining test were performed to test the influence of CPS in cultured cells in vitro, meanwhile western blot was done to uncover the precise molecular mechanisms. 786-O renal cancer xenografts were builded to investigate the antitumor activity of CPS in vivo.
Results
We found treatment of CPS reduced proliferation of renal carcinoma cells, which could be attenuated by TRPV1 representative antagonist capsazepine (CPZ). CPS induced obvious apoptosis in renal carcinoma cells. These events were associated with substantial up-regulation of pro-apoptotic genes including c-myc, FADD, Bax and cleaved-caspase-3, -8, and -9, while down-regulation of anti-apoptotic gene Bcl2. Besides, CPS-treatment activated P38 and JNK MAPK pathways, yet P38 and JNK inhibitors afforded protection against CPS-induced apoptosis by abolishing activation of caspase-3, -8, and -9. Furthermore, CPS significantly slowed the growth of 786-O renal cancer xenografts in vivo.
Conclusions
Such results reveal that CPS is an efficient and potential drug for management of human RCC.