01.10.2010 | Breast Oncology | Ausgabe 10/2010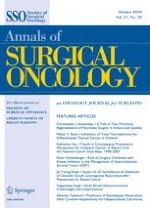 Capturing and Characterizing Immune Cells from Breast Tumor Microenvironment: An Innovative Surgical Approach
Zeitschrift:
Autoren:

MD Mohamed El-Shinawi, PhD Sayed F. Abdelwahab, MSc Maha Sobhy, MD Mohamed A. Nouh, PhD Bonnie F. Sloane, PhD Mona Mostafa Mohamed
Abstract
Background
In breast cancer patients, venous drainage of the breast may contain cells of immunological importance, tumor cells undergoing dissemination, and other biological factors derived from the tumor microenvironment. Collecting axillary venous blood during modified radical mastectomy and thus before dilution in the circulation may allow us to define biological properties of the tumor microenvironment. Aims were to (1) develop a surgical approach to collect blood from the breast tumor microenvironment through tributaries of the axillary vein and (2) characterize and compare immune cells collected from the axillary vein with those in peripheral blood of breast cancer patients.
Materials and Methods
We enrolled 17 women aged 30–50 years and diagnosed with breast cancer by mammography, ultrasound, and biopsy (stages II–III). All patients were, preoperatively, treatment-naive. During routine surgical dissection, blood was collected in heparin tubes, 10 mL from tributaries of the axillary vein and 10 mL from peripheral blood. Mononuclear cells were separated, and percentages of different leukocyte populations were determined by flow cytometry.
Results
We detected a significant increase in the percentage of total T lymphocytes and T helper cells collected from axillary tributaries, but not in the percentages of cytotoxic T cells, monocytes, natural killer, or B cells compared with peripheral blood.
Conclusions
The present study validated using an intraoperative surgical approach to collect leukocytes drained from the tumor microenvironment through axillary tributaries. Our results showed an increase in the infiltration of total T-lymphocytes and T helper cells in the tumor microenvironment, suggesting that they may contribute to tumor pathogenesis.