01.12.2017 | Research article | Ausgabe 1/2017 Open Access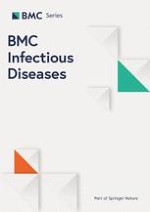 Carbapenem resistance, inappropriate empiric treatment and outcomes among patients hospitalized with Enterobacteriaceae urinary tract infection, pneumonia and sepsis
Zeitschrift:
Autoren:

Marya D. Zilberberg, Brian H. Nathanson, Kate Sulham, Weihong Fan, Andrew F. Shorr
Abbreviations
CRE
Carbapenem-resistant Enterobaceriaceae
CSE
Carbapenem-sensitive Enterobacteriaceae
IET
Inappropriate empiric therapy
Background
Initial antibiotic therapy affects outcomes in severe infection. For empiric therapy to have a benefit on patient outcomes, it must not only be given in a timely manner but must also be active in vitro against the infecting pathogen. Many studies indicate that either delaying antibiotic therapy or selecting a treatment to which the infecting pathogen is non-susceptible increases the risk for death 2–5-fold [
1
–
13
]. Therefore, clinicians must be aware of the common pathogens in specific infectious syndromes and of local antimicrobial susceptibility patterns in order to make appropriate choices for antimicrobial therapies. Unfortunately, rapidly rising rates of resistance and shifting resistance patterns render ensuring appropriate empiric coverage a challenge [
14
].
Recently, the Centers for Disease Control and Prevention have identified carbapenem-resistance among Enterobacteriaceae as an urgent threat in the US [
15
]. Though Enterobacteriaceae are common pathogens in pneumonia, urinary tract infections and sepsis and thus are often treated in most empiric coverage recommendations, the escalating frequency of carbapenem resistance in these pathogens makes ensuring initially appropriate antimicrobial treatment in areas where carbapenem-resistant Enterobacteriaceae (CRE) are prevalent nearly impossible [
13
,
14
,
16
–
19
]. Furthermore, administering broad-spectrum agents to all severely ill patients in order not to miss some individual with a rare highly resistant pathogen is not a sustainable practice, since the concerns for promoting further resistance may outweigh any potential benefit to patient-specific outcomes. In this way, the dilemma of CREs amplifies the tension between public (preservation of antimicrobial activity) and patient-level (optimizing clinical outcomes) health imperatives.
It remains unclear if the nexus between inappropriate therapy and outcomes seen with other pathogens exists in the case of infections due to CRE. Few analyses have specifically addressed this issue, while some that have attempted this lacked the ability to delineate the impact of inappropriate empiric therapy of CREs on attributable morbidity or on resources such as length of stay (LOS) [
20
,
21
]. To understand better the relationship between carbapenem-resistance, choice of inappropriate empiric therapy (IET), and key hospital outcomes, we conducted a cohort study of patients admitted to the hospital with community-onset urinary tract infections (UTI), pneumonia and sepsis due to Enterobacteriaceae.
Methods
This was a multi-center retrospective cohort study of patients admitted to the hospital with pneumonia, sepsis and UTI (referred to from here on as "UTI"), or sepsis from another source in the Premier Research database in the years 2009–2013. We hypothesized that infection with a CRE phenotype increased the risk of receiving IET. In turn, we hypothesized that the receipt of IET is adversely associated with hospital mortality, LOS, and costs.
Because this study used already existing fully de-identified retrospective data, it was exempt from IRB review.
Since the data source was the same and methods utilized in this study were similar to those used in our previous study, please refer to that paper for details [
22
].
Patient population
Patients were included if they were adults (age ≥ 18 years) hospitalized with a UTI International Classification of Diseases, version 9, Clinical Modification (ICD-9-CM) codes (principal diagnosis 112.2, 590.1, 590.11, 590.2, 590.3, 590.8.590.81, 595, 597, 599 or 996.64, or principal sepsis diagnosis [see below] with UTI as a secondary diagnosis), pneumonia ICD-9-CM codes (principal diagnosis 481–486, or respiratory failure codes [518.81 or 518.84] with pneumonia as a secondary diagnosis) or sepsis codes from another source (principal diagnosis 038, 038.9, 020.0, 790.7, 995.92 or 785.52, or respiratory failure codes [518.81 or 518.84] with sepsis coded as a secondary diagnosis) [
23
–
27
]. In order to eliminate confounding of the outcomes by pre-infection onset hospital events, only patients with infection present on admission, as evidenced by antibiotic treatment beginning within the first 2 days of hospitalization and continuing for at least 3 consecutive days, or until discharge, were included [
24
–
26
]. Patients were excluded if they were transferred from another acute care facility, if they were diagnosed with cystic fibrosis, or if their hospital length of stay (LOS) was 1 day or less. Those who met criteria for both UTI and sepsis or pneumonia and sepsis were included in the UTI or pneumonia group, respectively. Those with both UTI and pneumonia were analyzed with the pneumonia group. Patients were followed until death in or discharge from the hospital.
Data source
The data for the study derived from Premier Research database, an electronic laboratory, pharmacy and billing data repository, for years 2009 through 2013, which contains approximately 15% of all hospitalizations nationwide. For detailed description of the dataset, please, refer to citation #22.
Baseline variables
We classified each community-onset infection (UTI, pneumonia or sepsis) as healthcare-associated (HCA) if one or more of the following risk factors was present: 1) prior hospitalization within 90 days of the index hospitalization, 2) hemodialysis, 3) admission from a long-term care facility, 4) immune suppression [
3
,
6
,
16
,
23
–
26
]. All other infections were considered to be community-acquired (CA). For other patient factors and hospital-level variables, please see citation #22.
Microbiology and treatment variables and definitions
Urinary, blood and respiratory cultures had to be obtained within the first 2 days of hospitalization.
The following organisms were defined as Enterobacteriaceae of interest:
Premier database receives organism susceptibility reports from individual institutions' laboratories as S (susceptible), I (intermediate) or R (resistant). Although no MIC data are available in the database, all microbiology testing was performed locally at the institutions contributing the data and conformed to the CLSI standards. Carbapenem-resistant Enterobacteriaceae were defined as one of the above organisms where susceptibility testing yielded an I or R result to at least one of the four carbapenems: imipenem, meropenem, ertapenem or doripenem.
IET was present if the antibiotic administered for the infection did not cover the organism or if appropriate coverage did not start within 2 days of the positive culture being obtained.
Statistical analyses
We compared characteristics of patients infected with CRE to those infected with carbapenem-susceptible Enterobacteriaceae (CSE) and those treated with IET to those treated with non-IET. All unadjusted comparisons were done using standard methods described in detail in citation #22.
We developed a generalized logistic regression model to explore the relationship between CRE and the risk of IET. Covariates in the model were identical to those in citation #22. We calculated the relative risk ratio with 95% confidence intervals of receiving IET for CRE vs. CSE based on Huber-White robust standard errors clustered at the hospital level [
28
]. Consistent with our prior study, we confirmed our results in a non-parse model and a propensity matched model with propensity for CRE derived from a logistic regression model using the non-parse model's predictors [
22
]. To explore the impact of IET on hospital mortality, LOS and costs, we developed hierarchical regression models with hospitals as random effects along with confirmatory propensity-matched models.
All tests were two-tailed, and a
p
value <0.05 was deemed a priori to represent statistical significance. All analyses were performed in Stata/MP 13.1 for Windows (StataCorp LP, College Station, TX).
Results
An interaction term suggested a greater impact on mortality of IET in the setting of sepsis, which prompted a sensitivity analysis in the group whose organisms were cultured from blood. In this set of analyses, including 12,807 patients (186 CRE, 1.5%), the impact of IET on mortality was indeed greater (relative risk ratio 1.55, 95% confidence interval 1.18 to 2.03) than in the overall cohort.
Discussion
We demonstrate in this large multicenter observational cohort that among patients admitted from the community with a UTI, sepsis or pneumonia, over 17% have an infection with Enterobacteriaceae, of which approximately 3% are CRE. Although infrequent, the presence of CRE increases the risk of receiving IET substantially. In turn, receiving IET is associated with a rise in hospital mortality, LOS and costs, a rise particularly pronounced in patients with sepsis.
Conclusions
In summary, CRE is an uncommon but important pathogen in community-onset UTI, pneumonia and sepsis. We confirm that, similar to other resistant organisms, it evades appropriate empiric treatment and exposure to IET worsens both clinical and economic outcomes. Although the true extent of the problem requires further study, our data confirm that a substantial proportion of CRE may be acquired in the community irrespective of exposure to the healthcare system. In sum, our study provides compelling evidence to hasten development of rapid identification methods and new antibiotic treatments in order to optimize empiric therapy among hospitalized patients with serious infections.
Acknowledgements
No one other than the listed authors participated in the study design, analysis, interpretation or manuscript drafting or revision.
Funding
Funding: This study was funded by a grant from The Medicines Company. Ms. Sulham and Ms. Fan are employees of The Medicines Company.
Sponsor role: Although Ms. Sulham and Ms. Fan are employees of the sponsor and participated in the study as co-investigators, the larger sponsor had no role in study design, data analysis or interpretation or publication decisions.
Availability of data and material
The data that support the findings of this study are available from Premier, Inc., but restrictions apply to the availability of these data, which were used under license for the current study, and so are not publicly available.
Authors' contributions
MDZ contributed substantially to the study design, data interpretation, and the writing of the manuscript. BHN contributed substantially to the study design, data interpretation, and the writing of the manuscript. He had full access to all of the data in the study and takes responsibility for the integrity of the data and the accuracy of the data analysis. KS contributed substantially to the study design, data interpretation, and the writing of the manuscript. WF contributed substantially to the study design, data interpretation, and the writing of the manuscript. AFS contributed substantially to the study design, data interpretation, and the writing of the manuscript. All authors read and approved the final manuscript.
Competing interests
This study was supported by The Medicines Company.
Dr. Zilberberg is a consultant to The Medicines Company. Her employer, Evi
Med
Research Group, LLC, has received research grant support from The Medicines Company.
Dr. Nathanson is an employee of OptiStatim, LLC, who received grant support from Evi
Med
Research Group, LLC, for conducting this study.
Ms. Fan and Ms. Sulham are employees of and stockholders in The Medicines Company.
Dr. Shorr is a consultant and has received research grant support from The Medicines Company.
Drs. Zilberberg and Shorr have received grant support and have served as consultants to Pfizer, Merck, Inc., Tetraphase, Melinta, Asahi Kasei, Shionogi, Archaogen and Theravance.
Consent for publication
Not applicable.
Ethics approval and consent to participate
The study was a retrospective analysis of a de-identified database. As such, it is not considered human subject research.
Disclosure
This study was funded by The Medicines Company, Parsippany, NJ, USA. The data from this study were in part presented at ID Week 2016 meeting. I certify that all coauthors have seen and agree with the contents of the manuscript. I certify that the submission is not under review by any other publication.
Publisher's note
Springer Nature remains neutral with regard to jurisdictional claims in published maps and Institutional affiliations.
Open Access
This article is distributed under the terms of the Creative Commons Attribution 4.0 International License (
http://​creativecommons.​org/​licenses/​by/​4.​0/​
), which permits unrestricted use, distribution, and reproduction in any medium, provided you give appropriate credit to the original author(s) and the source, provide a link to the Creative Commons license, and indicate if changes were made. The Creative Commons Public Domain Dedication waiver (
http://​creativecommons.​org/​publicdomain/​zero/​1.​0/​
) applies to the data made available in this article, unless otherwise stated.