01.12.2017 | Research article | Ausgabe 1/2017 Open Access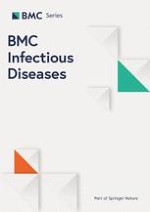 Carbapenem-resistant
Klebsiella pneumoniae

in high-risk haematological patients: factors favouring spread, risk factors and outcome of carbapenem-resistant

Klebsiella pneumoniae

bacteremias
Zeitschrift:
Autoren:

Alessandra Micozzi, Giuseppe Gentile, Clara Minotti, Claudio Cartoni, Saveria Capria, Daniele Ballarò, Stefania Santilli, Emanuele Pacetti, Sara Grammatico, Giampaolo Bucaneve, Robin Foà
Abstract
Background
Carbapenem-resistant
Klebsiella pneumoniae
(CRKP) spread and infections in patients with haematological malignancies are a serious concern especially in endemic areas. Treatment failures and delay in appropriate therapy for CRKP infections are frequent and the mortality rate associated with CRKP bacteremia in neutropenic haematological patients is reported about 60%.
Methods
Haematological patients harboring CRKP hospitalized between February 2012 and May 2013 in an Italian Teaching hospital were examined. Conditions favouring CRKP spread in a haematological unit, risk factors for bacteremia in CRKP-carriers and for CRKP bacteremia-related death were evaluated in this observational retrospective study.
Results
CRKP was isolated in 22 patients, 14 (64%) had bacteremia. Control measures implementation, particularly the weekly rectal screening for CRKP performed in all hospitalized patients and contact precautions for CRKP-carriers and newly admitted patients until proved CRKP-negative, reduced significantly the CRKP spread (14 new carriers identified of 131 screened patients vs 5 of 242 after the intervention,
p
 = 0.001). Fifty-eight percent of carriers developed CRKP bacteremia, and acute myeloid leukemia (AML) resulted independently associated with the bacteremia occurrence (
p
 = 0.02). CRKP bacteremias developed mainly during neutropenia (86%) and in CRKP-carriers (79%). CRKP bacteremias were breakthrough in 10 cases (71%). Ten of 14 patient with CRKP bacteremias died (71%) and all had AML. The 70% of fatal bacteremias occurred in patients not yet recognized as CRKP-carriers and 80% were breakthrough. Initial adequate antibiotic therapy resulted the only independent factor able to protect against death (
p
 = 0.02).
Conclusions
The identification of CRKP-carriers is confirmed critical to prevent CRKP spread. AML patients colonized by CRKP resulted at high risk of CRKP-bacteremia and poor outcome and the adequacy of the initial antibiotic therapy may be effective to improve survival. To limit the increase of resistance, the extensive use of antibiotics active against CRKP should be avoided, but in the setting of high CRKP pressure and high-risk CRKP-colonized haematological patients, timely empiric antibiotic combinations active against CRKP could be suggested as treatment of febrile neutropenia.