01.12.2017 | Research article | Ausgabe 1/2017 Open Access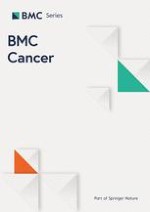 Carbon ion radiotherapy for 80 years or older patients with hepatocellular carcinoma
Zeitschrift:
Autoren:

Shintaro Shiba, Takanori Abe, Kei Shibuya, Hiroyuki Katoh, Yoshinori Koyama, Hirohumi Shimada, Satoru Kakizaki, Ken Shirabe, Hiroyuki Kuwano, Tatsuya Ohno, Takashi Nakano
Abstract
Background
To evaluate the safety and efficacy of carbon ion radiotherapy (C-ion RT) for 80 years or older patients with hepatocellular carcinoma (HCC).
Methods
Eligibility criteria of this retrospective study were: 1) HCC confirmed by histology or typical hallmarks of HCC by imaging techniques of four-phase multidetector-row computed tomography or dynamic contrast-enhanced magnetic resonance imaging; 2) no intrahepatic metastasis or distant metastasis; 3) no findings suggesting direct infiltration of the gastrointestinal tract; 4) performance status ≤2 by Eastern Cooperative Oncology Group classification; and 5) Child-Pugh classification A or B. Patients received C-ion RT with 52.8 Gy (RBE) or 60.0 Gy (RBE) in four fractions for usual cases and 60.0 Gy (RBE) in 12 fractions for close-to-gastrointestinal tract cases. Toxicities were classified using the National Cancer Institute's Common Terminology Criteria for Adverse Events (Version 4.0).
Results
Between March 2011 and November 2015, 31 patients were treated. The median follow-up period of all patients was 23.2 months (range: 8.4–55.3 months). Median age at the time of registration of C-ion RT was 83 years (range: 80–95 years). Child-Pugh grade A and B were 27 patients and 4 patients, respectively.
The 2-year estimated overall survival, local control, and progression-free survival rates were 82.3%, 89.2%, and 51.3%, respectively. No patients had Grade 2 or higher acute toxicities (within 3 months after C-ion RT). One patient experienced progression in Child-Pugh classification from A to B within 3 months after C-ion RT. In late toxicities, Grade 3 encephalopathy was observed in 3 patients, and 2 improved with medication.
Conclusions
C-ion RT was effective with minimal toxicities for 80 years or older patients with hepatocellular carcinoma.
Trial registration
UMIN000020571
: date of registration, 14 January 2016, retrospectively registered.