01.12.2017 | Research | Ausgabe 1/2017 Open Access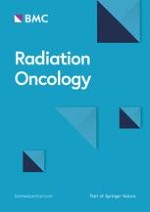 Carbon-ion radiotherapy for non-small cell lung cancer with interstitial lung disease: a retrospective analysis
Zeitschrift:
Autoren:

Mio Nakajima, Naoyoshi Yamamoto, Kazuhiko Hayashi, Masataka Karube, Daniel K Ebner, Wataru Takahashi, Makoto Anzai, Kenji Tsushima, Yuji Tada, Koichiro Tatsumi, Tadaaiki Miyamoto, Hiroshi Tsuji, Takehiko Fujisawa, Tadashi Kamada
Abbreviations
CTCAE
Common Terminology Criteria for Adverse Events
HIMAC
Heavy Ion Medical Accelerator in Chiba
ILD
Interstitial lung disease
IPF
Interstitial pulmonary fibrosis
MRI
Magnetic resonance imaging
NIRS
National Institute of Radiological Sciences
NSCLC
Non-small cell lung cancer
PET
Positron emission tomography
RBE
Relative biological effectiveness
SBRT
Stereotactic body radiation therapy
Background
In this study, we evaluated the toxicity and efficacy of CIRT for treating NSCLC in patients also presenting with ILD.
Methods
Study design and patient selection
We performed a retrospective evaluation of all patients with ILD-LC who were treated with CIRT at our hospital. Owing to the presense of ILD, all enrolled patients were ineligible for curative surgery and conventional radiotherapy.We diagnosed ILD was according to medical history, physical examination, respiratory function test, and evaluation of abnormalities compatible with bilateral lung fibrosis on chest computed tomography (CT) or high-resolution CT, such as peripheral reticular opacities. Biochemical tests for levels of lactate dehydrogenase, surfactant protein-D (SP-D), and serum Krebs von den Lungen-6 (KL-6) were also performed.
The treatment method and procedure were approved by the ethics committees of our institute, and written informed consent was obtained from all patients included in the study.
Lung cancer staging and interstitial lung disease severity
Initial workup included clinical and laboratory examinations, contrast-enhanced CT of the chest, contrast-enhanced magnetic resonance imaging (MRI) of the brain, and [11C]-acetate or [18F]-fluorodeoxyglucose (
18
F–FDG) positron emission tomography (PET)/CT scanning for detecting involved lymph nodes and distant metastases. The severity of ILD was evaluated according to the criteria of the Japanese Respiratory Society classifications [
20
].
Carbon-ion radiotherapy procedure
In accordance with routine practice at our institute for stage I NSCLC, all CIRT plans utilized 4 coplanar and oblique beam fields at mutual angles of 40 or 50 degrees.
For two patients with stage II NSCLC who had hilar lymph node metastases, the primary tumor and involved lymph nodes were contoured as the gross tumor volume. The clinical target volume included the primary tumor with 10-mm margins in all directions. Prophylactic regional nodal irradiation that included targeting the ipsilateral hilar and mediastinal lymph nodes was chosen for one of the patients with a hilar lymph node metastasis. For the other patient, only the primary tumor and involved lymph node were irradiated. The prescribed dose (72 Gy [RBE]) was administered to the primary tumor, and a reduced dose was delivered to the CTV up to a total dose of 50 Gy (RBE) at the discretion of the treating physician. A fixed dose of 72 Gy (RBE) was delivered over a course of 16 daily fractions administered on four consecutive days per week and over four consecutive weeks.
Follow-up
After the end of radiotherapy, regular follow-up examinations were performed every 3 months for the first 2 years and every 6 months thereafter. Each follow-up session included a physical evaluation, chest CT, brain MRI, respiratory function test, and laboratory tests at a minimum. Additional imaging investigations such as bone scanning and PET/CT were performed upon clinical suspicion of recurrence.
Radiation pneumonitis grading and the definition of acute exacerbation
The severity of RP was graded according to National Cancer Institute Common Terminology Criteria for Adverse Events (CTCAE), version 3.0. As many patients had respiratory symptoms prior to CIRT, symptoms were graded before and after CIRT, and symptomatic grade change was evaluated. The occurrence of AE was defined according to the revised Japanese criteria for AE of IPF [
20
], which states that all of the following three conditions must be satisfied during the course of IPF within a single month: 1) worsening or development of dyspnea 2) new ground-glass opacities appear on high-resolution CT in addition to previous honeycomb lesions, new ground-glass abnornalities, and/or consolidation superimposed on a background reticular or honeycomb pattern on high-resolution CT 3) a greater than 10 mmHg reduction of partial pressure of oxygen in the arterial blood under similar conditions. The ruling out of alternative causes, such as infection, pneumothorax, cancer, pulmonary embolism or congestive heart failure is required. Due to the difficulty of distinguishing AE from RP, AE was confirmed when infiltrates were observed outside the radiation field.
Statistical analysis
All data are presented as median values with ranges. We used JMP statistical software (version 11.0) for all statistical analyses. To investigate the relationships between patients with or without IP grade progression, clinical characteristics and treatment-related factors were compared using the Mann-Whitney U test or Fisher's exact test.
Overall survival was defined as the time elapsed from the start of CIRT to death or to last follow-up date (i.e., last hospital visit, phone call, or mailed communication). Patients lost to follow-up or who were alive at the end of the study were censored. The local control rate was calculated from the date of initial CIRT to the first local recurrence was first detected, or that of the patient's last follow-up visit. The overall survival and local control rates were analyzed using Kaplan-Meier statistics. Cox proportional hazards analysis was conducted to identify prognostic factors. A
p
-value less than 0.05 was considered statistically significant. Any AEs occurring after radiotherapy were evaluated qualitatively on an individual basis due to their low numbers.
Results
Patient characteristics and the severity of interstitial lung disease
In total, 637 consecutive patients with NSCLC who underwent CIRT between June 2004 and November 2014 were investigated retrospectively. Of these, 29 patients with ILD were identified; their characteristics are listed in Table
1
. Prior to CIRT, 11 grade 1 patients, 6 grade 2 patients, 8 grade 3 patients, and 4 grade 4 patients were identified according to the Modified Medical Research Council Dyspnea Scale [
24
]. Under the CTCAE v.3.0 criteria, there were 11 grade 1 patients, 14 grade 2 patients, 4 grade 3 patients, and no grade 4 or 5 patients. Four patients were using home oxygen therapy, 4 had a history of AE prior to treatment, and 4 had a prior autoimmune disease.
Table 1
Pretreatment patient characteristics
No. of patients

29

Follow-up period median (range)

26.8 (2.7–86.5)

Gender (male/female)

28/1

Age median (range)

73 (62–90)

Performance Status (ECOG) 0/1/2/3

15/13/2/0

Smoking history (pack years) median (range)

42 (0–210)

Severity of ILD (grade 1/2/3/4)

9/10/6/4

Dyspnea evaluation before CIRT

 No. of patients using home oxygen therapy

4

 mMRC scale (grade 0/1/2/3/4)

0/11/6/8/4

 equivalent RP grade CTCAE ver 3.0 (grade 1/2/3/4/5)

11/14/4/0/0

 %FVC median (range) a

82.3 (37.9–117.6)

 %DLco median (range) a

52.1 (15.5–235.5)

Tumor size

34 (17–63)

 T1a (≤2 cm)

2

 T1b (2-3 cm)

8

 T2a (3-5 cm)

14

 T2b (≥5 cm)

5

Tumor location

3000

 Upper lobe (including 2 tumors in middle lobe)

15

 Lower lobe

14

Nodal involvement (yes/no/suspected)

2/23/4

 Location of nodal involvement of 2 patients

#11 (left hilar lymph node)

Histology

 Adenocarcinoma

8

 Squamous cell carcinoma

10

 Unclassified non-small cell carcinoma

2

 Clinically diagnosed

9

Laboratory Data

 serum KL-6 (U/l) median (range)

1167 (456–2410)

 serum SP-D (ng/l) median (range)

157 (31–502)

The time of ILD diagnosis

 at the same time as lung cancer diagnosis

14

 unknown

1

 before diagnosis of lung cancer

14

Period from ILD to cancer diagnosis (median years) (range)

4 (2–13)

Episode of acute exacerbation before treatment (yes/no)

4/25

Auto-immune disease (yes/no)

4/25
Treatment characteristics
An evolving series of protocols were employed during the treatment period, the details of which are shown in Table
2
. Treatment timeframes ranged between 1 day (46–50 Gy [RBE], single fraction; 13 patients), 4 days (52.8–60 Gy[RBE], 4 fractions; 14 patients), and 4 weeks (72 Gy[RBE], 16 fractions; 2 patients). The PTV ranged from 34.6 mL to 1319.8 mL (median: 145.1 mL).
Table 2
Treatment characteristics and dose volume analysis
Protocol

No. of pts.

 46.0Gy (RBE) /1fr/1 day

1

 48.0Gy (RBE)/1fr/1 day

4

 50.0Gy (RBE)/1fr/1 day

8

 52.8Gy (RBE)/4fr/4 days

7

 60.0Gy (RBE)/4fr/4 days

7

 72.0Gy (RBE)/16fr/4wks

2

PTV volume (ml), median (range)

85.3 (34.6–1319.8)

Dosimetric factors of the lung (%), median (range)

 V5 lung

10.5 (3.0–34.8)

 V10 lung

8.6 (2.6–32.8)

 V15 lung

7.1 (2.2–27.1)

 V20 lung

6.2 (2.0–18.0)

 V25 lung

4.6 (1.8–16.8)

 V30lung

4.0 (1.5–15.9)

 Mean Lung Dose

3.5 (1.0–12.2)
Pre- and post-treatment radiation pneumonitis and radiation-induced AE
We detected RP of grades 1, 2, and 3 in 9, 12, and 8 patients, respectively (Table.
3
). Five patients experienced RP grade progression. Four patients experienced a single RP grade increase, from 1 to 2 or 2 to 3, following treatment; 1 patient had a 2-degree increase, from 1 to 3. Two patients experienced radiation-induced AE.
Table 3
RP Grade and incidence of acute exacerbation
RP grade (CTCAE ver3.0)

 1

9 (31%)

 2

12 (41%)

 3

8 (28%)

RP grade progression after treatment

 0/1/2

24/4/1

Acute exacerbation

2 (7%) a

RP symptom onset time

 no symptom

15 (52%)

 0–3 month

9 (31%)

 3–6 month

5 (17%)
Clinical outcomes
The median follow-up period was 26.8 months (range, 2.7–86.5 months) for all patients. The overall survival rates at 3 and 5 years was 46.3 and 30.4% (57.2 and 42.4% for stage I disease), respectively (Fig.
2
). Eighteen of 29 patients (62.1%) showed a survival of longer than 2 years. Eighteen patients had died at the time of this writing, 10 of LC progression, 2 of other cancers (1 pancreastic, and 1 myelodysplastic syndrome), and 6 of noncancerous causes (3 of bacterial pneumonia, 2 of hypoxia due to progression of ILD, and 1 of gastrointestinal hemorrhage). The deaths from hypoxia resulting from ILD occurred more than 40 months after undergoing CIRT in both patients. We observed eight local recurrences; the median time between CIRT and diagnosis of local recurrence was 17.2 months. The local control rates at 3 and 5 years were both 63.3% (72.2% for stage I disease only).
×
Acute exacerbation
Two patients were diagnosed with AE of their ILD post-CIRT. One was a 76-year-old man with stage IA LC, and the other an 80-year-old man with stage IB LC. They were diagnosed with AE by CT scanning following hospital admission due to worsening dyspnea, which revealed ground glass opacities outside the irradiated field. Both were treated with oxygen and steroid pulse therapy. The AE subsided in both patients, although the man with stage IA disease died of gastrointestinal hemorrhage 1 month following admission. The patient with stage IB disease was discharged, but died of bacterial pneumonitis 5 months after radiotherapy.
Radiation pneumonitis grade progression and related factors
Table
4
shows the relationships between the RP grade progression and pretreatment clinical factors as well as dosimetric factors in the 29 patients. The lung doses of V5 and V10 were significantly associated with the occurrence of RP grade progression (
p =
0.026 and 0.033). Pre-treatment serum SP-D was also found to correlate with grade progression, and was significantly lower in the grade-progressing patient population (
p =
0.036).
Table 4
Clinical and dosimetric factors associated with symptoms after CIRT
no grade change (

n

= 24)

grade progression (

n

= 5)

Clinical factors

 Age (yr), median (range)

72.0 (62–90)

76.0 (71–86)

0.224

 Performance Status (0/1/2)

13/9/2

1/4/0

0.330

 Severity of ILD (JRS) (1/2/3/4)

9/7/4/4

0/3/2/0

0.434

 mMRC scale (1/2/3/4/5)

0/9/6/5/4

0/2/0/3/0

0.952

 Tumor location (U/L)

11/13

3/2

1.000

 Tumor size (mm), median (range)

34.0 (17–58)

31.0 (22–63)

0.544

 serum KL-6, median (range)

880.5 (325–2410)

544.0 (466–1199)

0.260

 serum SP-D, median (range)

152.0 (60–502)

105.0 (31–140)

0.036

Respiratory function, median (range)

 %VC

90.7 (43.5–130.4)

86.7 (64.9–107.3)

0745

 %FVC

81.8 (37.9–117.6)

82.7 (52.8–98.7)

0.820

 FEV1.0 (L)

2.0 (1.13–2.92)

2.0 (1.47–2.96)

1.000

 FEV1.0/VC (%)

80.7 (54.0–91.2)

78.6 (72.7–99.7)

0.696

 %DLco

50.7 (15.5–92.2)

70.7 (39–235.5)

0.474

 Not evaluated

3

0

Dose-volume metrics, median (range)

 PTV (mL)

82.9 (34.6–345.9)

88.1 (52.3–1319.8)

0.507

 Total dose (Gy[RBE]),

52.8 (46–72)

50.0 (50–72)

0.5745

Dosimetric factors of the lung (%), median (range)

 V5

8.7 (3.0–20.6)

14.2 (10.9–34.8)

0.026

 V10

7.6 (2.6–18.3)

11.9 (8.4–32.8)

0.033

 V15

5.6 (2.2–13.6)

8.0 (7.1–27.1)

0.074

 V20

5.0 (3.0–20.6)

7.3 (6.2–18.0)

0.069

 V25

4.2 (1.8–11.0)

5.4 (3.3–16.8)

0.237

 V30

3.7 (1.5–9.0)

4.9 (2.8–15.9)

0.286

 V35

3.4 (1.4–8.5)

4.4 (2.5–5.0)

0.260

 V40

3.1 (1.3–8.0)

4.0 (2.2–14.0)

0.260

Mean Lung Dose (Gy[RBE])

2.8 (1.0–6.4)

3.8 (3.0–12.2)

0.075
Discussion
In this study, we aimed to evaluate the CIRT toxicity profile for LC patients with preexisting ILD-LC, for whom conventional radiation therapy such as SBRT is contraindicated. We evaluated 29 patients who were ineligible for surgery due to a previous diagnosis of ILD by examining the degree of RP in their lungs following treatment, as well as the degree of symptomatic change, and any AEs due to treatment.
The majority of the 29 patients in this trial presented with respiratory symptoms and clear interstitial opacities prior to treatment. Typically, this population of patients is offered best supportive care with no additional treatment. To our knowledge no other radiotherapy study targeted to this specific population has been performed.
The CTCAE were used to grade post-treatment pneumonitis. However, 14 of the 29 patients in our study (48%) presented with pretreatment grade 2-equivalent symptoms, while 4 (14%) presented with Grade 3 equivalent symptoms. As such, we postulate that the direct grading of symptoms following radiotherapy accuracy reflect post-treatment change. We evaluated the respiratory symptom grade progression over the course of treatment, and observed progression in 5 cases. Furthermore, ILD-related AE was noted in 2 patients; both grade 3 events. Despite the extremely high risk associated with these patients, the relative lack of serious adverse events (higher than grade 3) was noteworthy.
With respect to the 2 cases that exhibited AE, we evaluated respiratory function tests, blood tests, dosimetric factors, and other factors to determine whether they predicted exacerbation. However, no such associations were found.
As this study was retrospective, there remains the possibility that selection bias may have impacted the results, as all patients included were ineligible for surgery and SBRT because of the clear risk posed by their ILD.
Conclusions
In this study, most of patients presented with respiratory symptoms and clear interstitial opacities prior to treatment; this population had had few available treatment options outside of supportive care. Considering these unfavorable conditions, we demonstrated the efficacy and relative safety of the use of CIRT in LC patients with ILD. Dose-volume histogram analysis suggested the importance of minimizing the low-dose region, as the lung doses V5 and V10 lung doses were significantly associated with RP grade progression. As relatively few patients were evaluated in this study, a larger trial with long-term follow-up is warranted to verify these results.
Acknowledgements
This work was supported by the Research Project with Heavy Ions at NIRS-HIMAC. We are grateful to Dr. Kazuhisa Takahashi (Department of Respiratory Medicine, Juntendo University Graduate School of Medicine) and the Working Group for Lung Cancer at the NIRS.
Funding
This work did not receive any specific funding.
Availability of data and materials
The datasets used and /or analyzed during the current study are available from the corresponding author on reasonable request.
Ethics approval and consent to participate
All study participants provided informed consent, and we obtained general consent to the research in written form from the participant. The treatment method and procedure were approved by the ethics committees of our institution.
Consent for publication
We obtained consent for publication in written form from the patient described in Fig.
1
.
Competing interests
The authors declare that they have no competing interests.
Publisher's Note
Springer Nature remains neutral with regard to jurisdictional claims in published maps and institutional affiliations.
Open Access
This article is distributed under the terms of the Creative Commons Attribution 4.0 International License (
http://​creativecommons.​org/​licenses/​by/​4.​0/​
), which permits unrestricted use, distribution, and reproduction in any medium, provided you give appropriate credit to the original author(s) and the source, provide a link to the Creative Commons license, and indicate if changes were made. The Creative Commons Public Domain Dedication waiver (
http://​creativecommons.​org/​publicdomain/​zero/​1.​0/​
) applies to the data made available in this article, unless otherwise stated.