01.12.2016 | Research | Ausgabe 1/2016 Open Access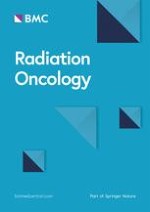 Carbon ion therapy (C12) for high-grade malignant salivary gland tumors (MSGTs) of the head and neck: do non-ACCs profit from dose escalation?
Zeitschrift:
Autoren:

A. D. Jensen, M. Poulakis, V. Vanoni, M. Uhl, N. Chaudhri, P. A. Federspil, K. Freier, J. Krauss, J. Debus
Wichtige Hinweise
Electronic supplementary material
The online version of this article (doi:
10.​1186/​s13014-016-0657-z
) contains supplementary material, which is available to authorized users.
Competing interests
JD is CEO of Heidelberg Ion Beam Therapy Centre. All other authors declare they have no competing interests.
Authors' contributions
ADJ and MU treated the patients, ADJ performed data acquisition and statistical analysis. NC was responsible for treatment plan generation and review. Carbon ion treatment followed interdisciplinary discussion of benefits with ADJ, PAF, KF, JK, and JD. PAF, KF, and JK participated in statistical analysis and critically reviewed the data. ADJ and MP drafted the manuscript and all authors revised it critically. All authors read and approved the final manuscript.
Abstract
Purpose
To evaluate the use of high-dose radiotherapy using carbon ions (C12) on non-adenoid cystic malignant salivary gland tumors (MSGT).
Patients and methods
Between 2009 and 2013, patients with biopsy-proven non-ACC MSGT histologies of the head and neck received a combined regimen of IMRT plus C12 boost. Treatment toxicity (CTC v3), response (RECIST 1.1), control and survival rates were retrospectively analyzed.
Results
40 patients with pathologically confirmed non-ACC MSGT (T4: 45 %; N+: 40 %; gross residual: 58 %; mucoepidermoid carcinoma (MEC): 45 %; adenocarcinoma: 20 %) were treated with a median of 74 GyE (80 Gy BED). Chemoradiation was given in 5 patients with MEC. Grade III acute toxicity was observed in up to 15 % (mucositis, dermatitis, dysphagia), no higher-grade late toxicity occurred to date. At a follow-up of 25.5 months, LC, and PFS at 2 and 3 years are 81.5 % (LC) and 66.8 % (PFS), OS at 2 and 3 years is 83.6 % and 72.8 %. Most frequent site of disease progression was distant metastasis. Histologic subtype correlated with LC and PFS. Resection status (gross vs microscopic disease) had no significant effect on LC, PFS, or OS.
Conclusion
The treatment is well tolerated, no higher grade late effects were observed. Considering the negative pre-selection, LC, PFS and OS are promising. While histology and site of origin significantly influenced control and survival rates, resection status did not, potentially due to the effect of dose escalation.