01.12.2018 | Case report | Ausgabe 1/2018 Open Access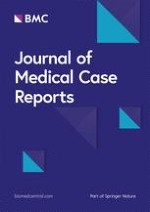 Carcinoid heart disease revealed by cyanosis with both right and left valvular involvement: a case report
Zeitschrift:
Autoren:

Khadija Khay, Salim Arous, Tarik Bentaoune, Abdenasser Drighil, Rachida Habbal
Abstract
Background
Carcinoid heart disease is a frequent complication of carcinoid syndrome. It is related to the release by the carcinoid tumor and/or its metastases of bioactive substances such as serotonin. It is characterized by right-sided valvular involvement and can lead to right-sided heart failure. It is a prognostic factor of carcinoid syndrome.
Case presentation
We report the case of a 53-year-old African woman with an endocrine tumor of her small intestine complicated by carcinoid heart disease, revealed by right-sided heart failure. The diagnosis was confirmed by transthoracic echocardiography, which showed a severe tricuspid regurgitation with a patent foramen ovale, and by increased serum chromogranin A and urinary 5-hydroxyindoleacetic acid.
Initially she was treated with medical therapy (furosemide and injection of somatostatin). Afterwards she was proposed for surgery. The evolution of her treatment was good.
Conclusions
Carcinoid syndrome is complicated in 60% of the cases of a heart disease, and is responsible for an important morbidity and mortality. The prognosis of patients with carcinoid heart disease has improved in recent years through somatostatin analogues and the cardiac surgery.