26.03.2020 | Ausgabe 2/2021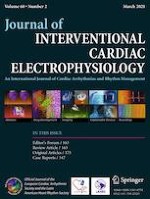 Cardiac anatomical axes by CT scan and confirmation of the accuracy of fluoroscopic individualized left anterior oblique projection for right ventricular lead implantation
Autoren:

Fabien Squara, Etienne Fourrier, Yann Diascorn, Alexandre Poulard, Didier Scarlatti, Sok-Sithikun Bun, Pamela Moceri, Emile Ferrari
Wichtige Hinweise
Publisher's note
Springer Nature remains neutral with regard to jurisdictional claims in published maps and institutional affiliations.
Abstract
Background
The fluoroscopic individualized LAO (i-LAO) projection has demonstrated high accuracy for identifying right ventricular (RV) lead positioning, likely by approximating a view along the septal or RV long axes. However, RV and septal anatomical axes have not been studied, and their relation with i-LAO is unknown. We sought to determine RV, septal, and left ventricular (LV) long-axis orientations by CT scan and to compare them to the i-LAO angle, to confirm the anatomical relevance of i-LAO.
Methods
We prospectively included patients (pts) for whom i-LAO angle was determined during pacemaker or defibrillator implant. Then, RV, septal, and LV long-axis orientations were determined by CT scan by a physician blinded to i-LAO data. The horizontal components of the cardiac axes were compared with those of the i-LAO angle.
Results
We included 26 pts. Median values were 57.5° for i-LAO angle (range 47.5–70), 64.5° for RV axis (range 48–90), 51.5° for septal axis (range 39–74), and 37° for LV axis (range 25–67). i-LAO angle best correlated with septal axis (
r
 = 0.91 and
ρ
c
 = 0.71). Up to an angle of 70° (maximal measurable i-LAO value; 23/26 pts), the i-LAO angle was comprised between the septal and the RV axes (21/23 pts, 91.3%), or within 2° of this interval (2/23 pts, 8.7%).
Conclusions
RV and septal anatomical axes present major interindividual variations, prompting the use of individualized fluoroscopy criteria for lead implantation. i-LAO angle demonstrated to be almost constantly between the septal and RV long axes, thus confirming its anatomical relevance for RV lead implantation.