01.12.2019 | Case report | Ausgabe 1/2019 Open Access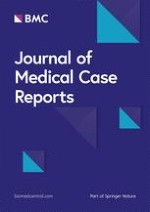 Cardiac arrest induced by the intentional ingestion of boric acid and mirtazapine treated by percutaneous cardiopulmonary bypass: a case report
Zeitschrift:
Autoren:

Hiroki Nagasawa, Hiroaki Nakanishi, Kazuyuki Saito, Takehisa Matsukawa, Kazuhito Yokoyama, Youichi Yanagawa
Abstract
Background
Mirtazapine has a good tolerability and safety profile that demonstrates several benefits over other antidepressants and it is associated with few fatalities. Boric acid is an odorless white powder that is generally not recognized as a poisonous substance. We report a case of cardiac arrest induced by the intentional ingestion of mirtazapine, boric acid, and sennosides, by a patient who required percutaneous cardiopulmonary bypass.
Case presentation
Our patient was a 49-year-old Japanese woman with a history of depression; she was found in an unconscious state after ingesting boric acid (unknown amount), mirtazapine (1950 mg), and sennosides (780 mg). On arrival, she was in a deep coma with marked hypotension induced by atrial fibrillation, tachycardia, and diffuse hypokinetic cardiac motion. She had systemic diffuse erythema. Her serum concentrations of boric acid and mirtazapine on arrival were 560.49 mg/L and 1270 ng/mL, respectively. She experienced repeated cardiac arrest, and was therefore treated with tracheal intubation, mechanical ventilation, percutaneous cardiopulmonary bypass, and continuous hemodialysis filtration. Stable circulation and respiration and a normal kidney function were finally obtained and she was transferred to a local medical facility in a persistent unconscious state.
Conclusions
This is the first case of a return of spontaneous circulation after cardiac arrest induced by the intentional ingestion of boric acid and mirtazapine, requiring percutaneous cardiopulmonary bypass for survival. To maintain cerebral perfusion during percutaneous cardiopulmonary bypass, even in a prolonged state of cardiac arrest induced by overdose, is medically, ethically, and economically challenging.