24.09.2019 | Review | Ausgabe 6/2019 Open Access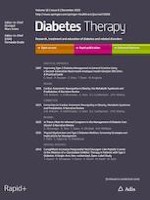 Cardiac Autonomic Neuropathy in Obesity, the Metabolic Syndrome and Prediabetes: A Narrative Review
Zeitschrift:
Autoren:

Scott M. Williams, Aikaterini Eleftheriadou, Uazman Alam, Daniel J. Cuthbertson, John P. H. Wilding
Wichtige Hinweise
Enhanced Digital Features
Abstract
Cardiac autonomic neuropathy (CAN) is a major complication of type 1 and type 2 diabetes mellitus (T1DM and T2DM). The increased morbidity, cardiovascular and all-cause mortality associated with CAN is established from numerous epidemiological studies. However, CAN is increasingly recognised in people with prediabetes (pre-DM) and the metabolic syndrome (MetS) with a reported prevalence up to 11% and 24% respectively. CAN is associated with components of MetS including hypertension and obesity, predating hyperglycaemia. The aetiology of CAN is multifactorial and there is a reciprocal relationship with insulin resistance and MetS. Obstructive sleep apnoea (OSA) is also associated with CAN possibly through MetS and an independent mechanism. An estimated global prevalence of the impaired glucose tolerance (IGT) form of pre-DM of 587 million people by 2045 means CAN will become a major clinical problem. CAN is independently associated with silent myocardial ischaemia, major cardiovascular events, myocardial dysfunction and cardiovascular mortality. Screening for CAN in pre-DM using risk scores with analysis of heart rate variability (HRV) or Sudoscan is important to allow earlier treatment at a reversible stage. The link between obesity and CAN highlights the therapeutic potential of lifestyle interventions including diet and physical activity to reverse MetS and prevent CAN. Weight loss achieved using these dietary and exercise lifestyle interventions improves the sympathetic and parasympathetic HRV indices of cardiac autonomic function. Further research is needed to identify high-risk populations of people with pre-DM or obesity that might benefit from targeted pharmacotherapy including metformin, sodium/glucose cotransporter 2 (SGLT2) inhibitors and glucagon-like peptide 1 (GLP-1) analogues. Bariatric surgery also improves HRV through weight loss which might also prevent CAN in severe obesity. This article reviews the literature on CAN in obesity, pre-DM and MetS, to help determine a rationale for screening, early intervention treatment and formulate future research questions in this highly prevalent condition.