18.08.2017 | Original Article | Ausgabe 2/2018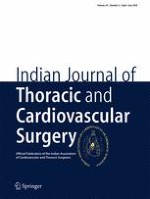 Cardiac rehabilitation reduces salivary levels of interleukin-6 in post coronary artery bypass graft patients
Autoren:

Behnoush Vasaghi–Gharamaleki, Iraj Mirzaii-Dizgah, Boshra Jamshidpour, Behrouz Attarbashi-Moghadam
Abstract
Background
An important pro-inflammatory cytokines is serum interleukin-6 (IL-6), which is a strong predictor of future cardiovascular events and is easily accessible from saliva. The aim of the study is to assess changes in the salivary levels of IL-6 before, during, and after exercise-based cardiac rehabilitation as an anti-inflammatory modality among men with coronary artery disease.
Methods
Thirty low- to moderate-risk post coronary artery bypass graft male patients who referred to a cardiac rehabilitation department, participated in the study, which was an 8-week exercise-based cardiac rehabilitation program. Anthropometric measurements and non-stimulated and stimulated salivary IL-6 levels were evaluated at the beginning, in the middle (end of 4th weeks) and at the end of exercise sessions.
Results
Functional capacity, hip circumference, and waist-height ratio significantly increased (
P
< 0.05). Non-stimulated saliva IL-6 significantly decreased (
P
< 0.05), but stimulated saliva IL-6 not significantly decreased during 8 weeks of exercise.
Conclusions
It seems that the salivary level of IL-6 reduces in post coronary artery bypass graft patients following cardiac rehabilitation.