28.04.2018 | Original Article | Ausgabe 7/2018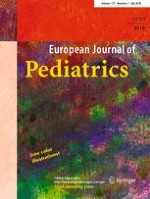 Cardiorespiratory fitness and academic performance association is mediated by weight status in adolescents: DADOS study
Zeitschrift:
Autoren:

María Reyes Beltran-Valls, Mireia Adelantado-Renau, Jose Castro-Piñero, Mairena Sánchez-López, Diego Moliner-Urdiales
Wichtige Hinweise
Communicated by Mario Bianchetti
Abstract
The aim of our study was to examine the mediation effect of weight status on the association between cardiorespiratory fitness (CRF) and academic performance (AP). Two hundred sixty-nine adolescents (140 boys) aged 13.9 ± 0.3 years old from the DADOS study were included in this cross-sectional analysis. CRF was assessed by the 20-m shuttle run test and estimated maximum oxygen uptake was used in the analysis. AP was assessed through the final academic grades and the Science Research Associates Test of Educational Abilities for assessing reasoning, verbal, and numeric abilities. Weight status was assessed by body mass index (kg/m2). Boot-strapped mediation procedures were performed and indirect effects (IE) with confidence intervals (CI) not including zero were considered statistically significant. Mediation analysis revealed that weight status acted as a mediator of the relationship of CRF with reasoning ability (IE = 0.039; CI = 0.001; 0.091) and the final grades in Math (IE = 0.011; CI = 0.002; 0.025), Language (IE = 0.013; CI = 0.004; 0.027), and GPA (IE = 0.011; CI = 0.003; 0.023).
Conclusions
: Our data show that the influence of CRF on academic performance is mediated by weight status in adolescents. We suggest that our data could be considered by educators, families, and policy makers, so that active lifestyles might be promoted when designing programs aimed to improve AP among adolescents.
•
Academic performance is associated with both, cardiorespiratory fitness and weight status
.
•
The role of weight status in the association between cardiorespiratory fitness and academic performance is poorly understood
.
•
We support the scarce research investigating the mediating role of weight status as mechanism in the association between fitness and academic performance in youth
.
•
Previous knowledge is expanded by suggesting that cardiorespiratory fitness is related to weight status which in turn may positively influence academic performance in adolescents
.