01.12.2017 | Research | Ausgabe 1/2017 Open Access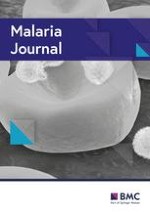 Caregivers' perception of malaria and treatment-seeking behaviour for under five children in Mandura District, West Ethiopia: a cross-sectional study
Zeitschrift:
Autoren:

Israel Mitiku, Adane Assefa
Abstract
Background
Early diagnosis and prompt malaria treatment is essential to reduce progression of the illness to severe disease and, therefore, decrease mortality particularly among children under 5 years of age. This study assessed perception of malaria and treatment-seeking behaviour for children under five with fever in the last 2 weeks in Mandura District, West Ethiopia.
Methods
A community based cross-sectional study was conducted among 491 caregivers of children under five in Mandura District, West Ethiopia in December 2014. Data were collected using interviewer-administered questionnaires. Data were entered into Epi Info version 7 and analysed using SPSS version 20. Multiple logistic regression analyses were conducted to identify the determinants of caregivers' treatment-seeking behaviour.
Results
Overall, 94.1% of the respondents perceived that fever is the most common symptom and 70% associated mosquito bite with the occurrence of malaria. Of 197 caregivers with under five children with fever in the last 2 weeks preceding the study 87.8% sought treatment. However, only 38.7% received treatment within 24 h of onset of fever. Determinants of treatment-seeking include place of residence (rural/urban) (AOR 2.80, 95% CI 1.01–7.70), caregivers age (AOR 3.40, 95% CI 1.27–9.10), knowledge of malaria (AOR 4.65, 95% CI 1.38–15.64), perceived susceptibility to malaria (AOR 3.63, 95% CI 1.21–10.88), and perceived barrier to seek treatment (AOR 0.18, 95% CI 0.06–0.52).
Conclusions
Majority of the respondents of this study sought treatment for their under five children. However, a considerable number of caregivers first consulted traditional healers and tried home treatment, thus, sought treatment late. Living in rural village, caregivers' age, malaria knowledge, perceived susceptibility to malaria and perceived barrier to seek treatment were important factors in seeking health care. There is a need to focus on targeted interventions, promote awareness and prevention, and address misconceptions about childhood febrile illness.