01.12.2017 | Case report | Ausgabe 1/2017 Open Access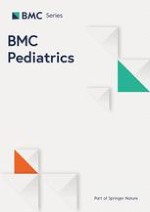 Carnitine-related hypoglycemia caused by 3 days of pivalate antibiotic therapy in a patient with severe muscular dystrophy: a case report
Zeitschrift:
Autoren:

Masanori Ito, Mitsumasa Fukuda, Yuka Suzuki, Hiroyuki Wakamoto, Eiichi Ishii
Abstract
Background
Long-term treatment with antibiotics containing pivalic acid may decrease serum carnitine concentration and can sometimes be associated with severe hypoglycemia and encephalopathy in infants. Little has been reported, however, on severe hypocarnitinemia induced by acute administration in older children.
Case presentation
We describe a 6-year-old Japanese girl with Fukuyama-type congenital muscular dystrophy who lost consciousness after 3 days of treatment with an antibiotic containing pivalic acid (cefditoren pivoxil). Investigations at the onset of unconsciousness revealed hypoglycemia (free plasma glucose concentration: 31 mg/dL) and hypocarnitinemia (serum free carnitine concentration: 6.2 μmol/L). Intravenous administration of glucose rapidly improved her symptoms without any complications. Serum free carnitine concentration was 29.0 μmol/L immediately prior to the initiation of cefditoren pivoxil. Computed tomography scanning showed severe peripheral skeletal muscle atrophy, indicating the likelihood of decreased carnitine stores in skeletal muscle.
Conclusions
Although serum carnitine concentration can appear deceptively normal, skeletal muscle carnitine stores can be reduced in patients with severe muscular atrophy. Even a short course of a pivalate-containing antibiotic can lead to life-threatening hypocarnitinemia in older children with severe muscular dystrophy.