01.12.2015 | Research article | Ausgabe 1/2015 Open Access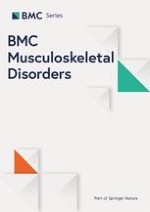 Cartilage matrix changes in contralateral mobile knees in a rabbit model of osteoarthritis induced by immobilization
Zeitschrift:
Autoren:

Qiang Zhou, Bo Wei, Shuai Liu, Fengyong Mao, Xiang Zhang, Jun Hu, Jin Zhou, Qingqiang Yao, Yan Xu, Liming Wang
Wichtige Hinweise
Qiang Zhou and Bo Wei contributed equally to this work.
Competing interests
The authors declare that they have no competing interests.
Authors' contributions
QZ, BW and LMW were involved in study design, data acquisition and interpretation and drafting/ revisions of the manuscript. SL, FYM and XZ were involved in data and statistical analysis. JH, JZ, QQY and YX were involved in data acquisition and revisions of the manuscript. All authors read and approved the final manuscript.
Abstract
Background
Many researches have investigated the changes associated with immobilization-induced osteoarthritis (OA). However, there are only few studies focusing on the effect of unilateral knee immobilization on cartilage matrix changes in the contralateral mobile knee. The aim of the present study was to investigate the influence of immobilization on the cartilage matrix in the contralateral mobile knees in a rabbit model of OA induced by immobilization.
Methods
Right knees (experimental knees) of eighteen mature female rabbits were immobilized at an extension of 180° with orthopedic casting tape for 2, 4, or 8 weeks. Left knees (contralateral knees) of the immobilized rabbits were not subjected to immobilization. The knees of six non-immobilized rabbits were designated as control knees. Following immobilization, cartilage specimens from the medial femoral condyle underwent macroscopic, histological, immunohistochemical, and biochemical evaluations.
Results
Roughness of cartilage surface was detected in the experimental knees at 2 weeks, and cartilage degeneration was further developed. In the contralateral knee, cartilage showed degenerative changes after 4 weeks. Safranin-O staining and glycosaminoglycan (GAG) contents were reduced in the experimental knees following immobilization and in the contralateral intact knees after 4 and 8 weeks. Type II collagen staining was gradually reduced, type I collagen accumulation was obviously detected in the upper and middle layers of cartilage in experimental knees after 8 weeks, and the collagen orientation was gradually disorganized in both knees at 4 and 8 weeks. For both experimental and contralateral knees, collagen contents were significantly decreased at 8 weeks, and Mankin and Osteoarthritis Research Society International (OARSI) scores increased over time.
Conclusion
OA developed in the contralateral intact knee with the progress of OA in the immobilized knee in a rabbit model of immobilization-induced OA.