06.11.2019 | Case Report | Ausgabe 4/2019 Open Access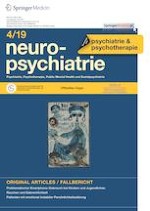 Case-based blended eLearning scenarios—adequate for competence development or more?
Zeitschrift:
Autoren:

Patricia Pia Wadowski, Brigitte Litschauer, Tamara Seitz, Sebastian Ertl, Prof. Henriette Löffler-Stastka
Wichtige Hinweise
Publisher's Note
Springer Nature remains neutral with regard to jurisdictional claims in published maps and institutional affiliations.
Case-based learning concept and implementation at the Medical University of Vienna
The integration of the interactive case-based e‑Learning into the Medical Curriculum of Vienna was initiated in 2014. Teachers and students provide real-life patient cases and background information, which is integrated into an online platform of the Medical University Vienna. Data are anonymized and transferred from the General Hospital Information Management into the established "Moodle"-E-learning database [
1
,
2
]. Competence levels acquired by students are based on Dublin descriptors [
3
] and include the Austrian Catalogue of Competence levels for medical skills. Furthermore, compatibility is given with the CanMED framework, which sets definitions of the physicians' roles (Medical Expert, Communicator, Collaborator, Manager, Health Advocate, Scholar and Professional) and thematic groups of competencies [
4
].
Over 100 different cases in many different specialties like internal medicine, trauma surgery, orthopedics, dermatology, pediatric care, laboratory medicine, microbiology, and psychiatry are offered. The level of complexity and learning objectives are also differing, ranging from diagnosing ordinary infections to treating and managing very complex cases interdisciplinarily within an biopsychosocial framework.
As an example, we provide a clinical psychiatric case of posttraumatic stress disorder (PTSD), a 30-year-old refugee suffering from typical disease-related symptoms, to illustrate the design of our cases. On the basis of the Bloom's taxonomy criteria [
5
], the learning scenarios are constructed as follows:
Following that, interactive questions are constructed to train and test learning objectives as well as create procedural knowledge. The interactive questions focus on network or associative knowledge with previously learned textbook knowledge while training clinical reasoning by applying the learned contents. The questions focus on 1) recognizing symptom patterns and red flags, 2) clinical reasoning—understanding modes of operation for creating and arguing diagnostic hypotheses, and 3) clinical decision making—making diagnostic and therapeutic conclusions. At the end of a year or of a certain curriculum element the students have to pass an Objective Structured Clinical Examination (OSCE) to show their performance and competence. Translational knowledge is evaluated in the portfolios.
Linguistically and for argumentation strategies, an important dimension is defined in requiring students to answer why which clinical hypotheses are in/correct, why they would proceed with a therapy. Additionally, field specific foci with recent research impulses are set by educators in the field. Examples of these foci are dimensions of communication in psychiatry, interdisciplinary referral communication in medicine, and the systematic approach to a clinical examination for e.g., traumatology.
Beyond teaching: digital interface for clinics, teaching and research
International studies and curricular reforms emphasizing new teaching methods [
26
] described case-based learning to be the best way for preparation in clinical problem solving and to be an effective lecture format, in order to gain improvements in declarative as well as procedural knowledge via fostering the understanding of (patho)physiological concepts. A strengthened understanding of pathoplastic concepts could be developed and an improvement of grades among students could be shown (e.g., in the US in the USMLE-scoring) [
24
,
28
,
29
]. The USMLE, as a test for medical licensure in the US, is a tool to measure the ability to apply knowledge, concepts and principles. Skills, that are essential for a safe and effective patient care [
30
]. This 3 step test ensures, that all doctors in the US who have passed, shall have the same competence level.
In addition, controlled E‑learning cases promote students' satisfaction [
31
] and are suggested as an instrument for burnout prevention in medical students [
32
].
At the Medical University of Vienna, the preparation and discussion of E‑learning cases has led to a networking platform of students, postgraduates, clinicians and teachers. The working groups discuss clinical and translational aspects in order to foster research cooperation. The online e‑learning platform serves as basis for a database of cases constructive for postgraduate teaching and interdisciplinary research questions.
Continuous evaluation, technical improvements as well as updates on current clinical guidelines are performed to set high standards, foster effective information transfer and ensure persistent student satisfaction [
33
]. The latter was the advance of business schools, which have a higher emphasis on creative problem-solving, career counseling and training in resilience [
32
].
The e‑collection of academic cases with a step-wise feedback system provides a continuously actualized platform to link newest insights of basic research to clinical practice thus familiarizing students with research questions and the current research approach.
It must be highlighted, that the advantage of a case-based learning approach is underrated [
34
] and due to missing research in the field of students' attitudes, knowledge levels and competencies, an ongoing student tracking project is currently established and in progress.
Take home message
Recent research aspects were integrated in the case presentations to enable translational thinking. Satisfaction with this kind of learning led to formation of innovative learning-platforms and publication groups that began to develop critical reflection on curricular development, patient-centered clinical reasoning processes and research questions—both in students and teachers.
It has to be highlighted, that further research in the field of CBL is necessary.
Compliance with ethical guidelines
Conflict of interest
P.P. Wadowski, B. Litschauer, T. Seitz, S. Ertl and H. Löffler-Stastka declare that they have no competing interests.
Ethical standards
The ethics committee and the data protection committee of the Medical University Vienna approved the study and the online eLearning platform. Informed consent of the patients is given.
Open Access
This article is distributed under the terms of the Creative Commons Attribution 4.0 International License (
http://​creativecommons.​org/​licenses/​by/​4.​0/​
), which permits unrestricted use, distribution, and reproduction in any medium, provided you give appropriate credit to the original author(s) and the source, provide a link to the Creative Commons license, and indicate if changes were made.
Publisher's Note
Springer Nature remains neutral with regard to jurisdictional claims in published maps and institutional affiliations.