30.04.2018 | Assisted Reproduction Technologies | Ausgabe 7/2018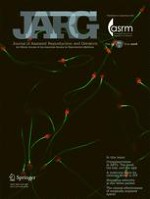 Case of successful IVF treatment of an oligospermic male with 46,XX/46,XY chimerism
Zeitschrift:
Autoren:

R. J. Laursen, B. Alsbjerg, I. Vogel, C. H. Gravholt, H. Elbaek, D. L. Lildballe, P. Humaidan, E. M. Vestergaard
Abstract
Introduction
We present a case of an infertile male with 46,XX/46,XYchimerism fathering a child after ICSI procedure.
Methods
Conventional cytogenetic analysis on chromosomes, derived from lymphocytes, using standard Q-banding procedures with a 450–550-band resolution and short-tandem-repeat analysis of 14 loci.
Results
Analysis of 20 metaphases from lymphocytes indicated that the proband was a karyotypic mosaic with an almost equal distribution between male and female cell lines. In total, 12 of 20 (60%) metaphases exhibited a normal female karyotype 46,XX, while 8 of 20 (40%) metaphases demonstrated a normal male karyotype 46,XY. No structural chromosomal abnormalities were present. Out of 14 STR loci, two loci (D18S51 and D21S11) showed four different alleles in peripheral blood, buccal mucosal cells, conjunctival mucosal cells, and seminal fluid. In three loci (D2S1338, D7S820, and vWA), three alleles were detected with quantitative differences that indicated presence of four alleles. In DNA extracted from washed semen, four alleles were detected in one locus, and three alleles were detected in three loci. This pattern is consistent with tetragametic chimerism. There were no quantitative significant differences in peak heights between maternal and paternal alleles. STR-analysis on DNA from the son confirmed paternity.
Conclusion
We report a unique case with 46,XX/46,XY chimerism confirmed to be tetragametic, demonstrated in several tissues, with male phenotype and no genital ambiguity with oligospermia fathering a healthy child after IVF with ICSI procedure.