01.12.2017 | Case Report | Ausgabe 1/2017 Open Access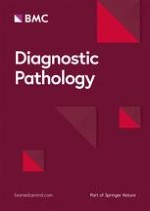 Case report: ACTH-secreting pituitary carcinoma metastatic to the liver in a patient with a history of atypical pituitary adenoma and Cushing's disease
Zeitschrift:
Autoren:

Amy S. Joehlin-Price, Douglas A. Hardesty, Christina A. Arnold, Lawrence S. Kirschner, Daniel M. Prevedello, Norman L. Lehman
Abbreviations
ACTH
Adrenocorticotropic hormone
APA
Atypical pituitary adenoma
cGY
centigray (unit of radiation)
FSH
Follicle stimulating hormone
IMRT
Intensity modulated radiation therapy
MRI
Magnetic resonance imaging
PET
Positron emission tomography
SUV
Standardized uptake value
TSH
Thyroid stimulating hormone
A version of this abstract has been previously published and presented at the 2015 Society of Neuro-Oncology Annual Meeting [
1
].
Background
Pituitary carcinoma is a rare entity, accounting for only 0.1 to 0.2% of pituitary tumors [
2
–
4
], and for which there are few effective treatments. Pituitary carcinoma cannot be diagnosed by pituitary imaging or biopsy alone, as cerebrospinal or systemic metastasis is required for its diagnosis. This makes early clinical detection extremely challenging.
Most pituitary carcinomas are functional in nature, predominantly secreting prolactin or adrenocorticotropic hormone (ACTH) [
3
,
5
]. Lesions secreting growth hormone [
5
], both follicle stimulating hormone (FSH) and luteinizing hormone (LH) [
6
], and thyroid stimulating hormone (TSH) [
5
] are less commonly reported, as are non-secreting carcinomas [
7
–
9
]. Initially, corticotroph carcinomas were thought to be generally associated with Nelson's syndrome [
3
,
10
,
11
], but Cushing's-associated cases have also been reported [
12
–
19
]. Herein, we present an additional rare case of an ACTH-secreting atypical pituitary adenoma (APA) previously treated with two resections and radiation therapy, metastasizing to the liver in a female patient with Cushing's disease. We discuss the clinical and pathologic diagnosis and management of this patient and briefly review the pertinent literature.
Case presentation
A now 52-year-old woman with a history of type 2 diabetes mellitus well-controlled by metformin initially presented at age 49 to another institution with complaints of blurry vision. Work-up revealed a pituitary macroadenoma, invasive into the left cavernous sinus as assessed by magnetic resonance imaging (MRI). The referring neurosurgery service performed a partial resection of the lesion by an endoscopic endonasal approach, resulting in symptomatic improvement for the patient. Review of this original pathology showed a population of fairly monotonous polygonal cells with coarse chromatin, distinct nucleoli, and small amounts of granular, basophilic cytoplasm. Immunohistochemical staining for chromogranin A and ACTH were positive, confirming the lesion as a functional pituitary tumor. A diagnosis of atypical pituitary macroadenoma was rendered due to positive p53 staining and an elevated Ki-67 proliferation index of 4%.
Discussion
In the case presented herein, interval laboratory monitoring and subsequent imaging identified the metastasis 29 months (2.4 years) after the initial APA diagnosis. Because of her long-term waxing and waning hypercortisolemia of approximately 2 1/2 years' duration, and possible acquired tolerance of increased cortisol, it is not clear however whether she was experiencing recurrence of symptoms due to growth of the metastasis. Later during her course, she was started on mifepristone, which made interpretation of her clinical symptoms relative to laboratory values even more difficult.
Conclusions
In summary, we present an uncommon case of ACTH-secreting pituitary carcinoma metastatic to the liver in a patient with a history of an invasive APA and Cushing's disease. Clinical awareness of the rare possibility for invasive or atypical pituitary adenomas to metastasize is essential to appropriately monitor patients for possible early detection and treatment of pituitary carcinoma.
Acknowledgements
We honor and thank the patient for consenting to the publication of her case in order to benefit other patients.
Funding
Dr. Lehman was supported in part by NIH grant R01 NS081125. There are no additional relevant funding sources utilized in the writing of this case report.
Availability of data and materials
Data sharing is not applicable to this case report as no datasets were generated or analyzed during the current study. If there are questions about clinical data points, please contact the corresponding author.
Authors' contributions
ASJP, DAH, and NLL were responsible for primary writing of the report. CAA, LK, and DMP contributed pertinent information about patient management and diagnosis, and provided editorial guidance in the writing of the report. NLL oversaw all aspects of this case report. All authors read and approved the final manuscript.
Competing interests
The authors declare that they have no competing interests.
Consent for publication
Written informed consent for publication of her clinical details and clinical images was obtained from the patient. A copy of the consent form is available for review by the Editor of this journal.
Ethics approval and consent to participate
Not applicable.
Publisher's Note
Springer Nature remains neutral with regard to jurisdictional claims in published maps and institutional affiliations.
Open Access
This article is distributed under the terms of the Creative Commons Attribution 4.0 International License (
http://​creativecommons.​org/​licenses/​by/​4.​0/​
), which permits unrestricted use, distribution, and reproduction in any medium, provided you give appropriate credit to the original author(s) and the source, provide a link to the Creative Commons license, and indicate if changes were made. The Creative Commons Public Domain Dedication waiver (
http://​creativecommons.​org/​publicdomain/​zero/​1.​0/​
) applies to the data made available in this article, unless otherwise stated.