01.12.2018 | Case report | Ausgabe 1/2018 Open Access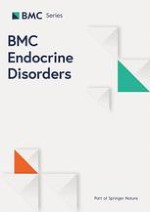 Case Report: Identification of an HNF1B p.Arg527Gln mutation in a Maltese patient with atypical early onset diabetes and diabetic nephropathy
Zeitschrift:
Autoren:

Nikolai Paul Pace, Johann Craus, Alex Felice, Josanne Vassallo
Abstract
Background
The diagnosis of atypical non-autoimmune forms of diabetes mellitus, such as maturity onset diabetes of the young (MODY) presents several challenges, in view of the extensive clinical and genetic heterogeneity of the disease. In this report we describe a case of atypical non autoimmune diabetes associated with a damaging HNF1β mutation. This is distinguished by a number of uncharacteristic clinical features, including early-onset obesity, the absence of renal cysts and diabetic nephropathy. HNF1β-MODY (MODY5) is an uncommon form of monogenic diabetes that is often complicated by a wide array of congenital morphological anomalies of the urinary tract, including renal cysts. This report expands on the clinical phenotypes that have been described in the context of HNF1β mutations, and is relevant as only isolated cases of diabetic nephropathy in the setting of MODY5 have been reported.
Case presentation
An obese Maltese female with non-autoimmune diabetes, microalbuminuria, glomerular hyperfiltration, fatty liver and no renal cysts was studied by whole exome sequencing to investigate potential genes responsible for the proband's phenotype. A rare missense mutation at a highly conserved site in exon 8 of HNF1β was identified (c.1580G > A, NM_000458.3, p.Arg527Gln), with multiple in-silico predictions consistent with pathogenicity. This mutation has not been previously characterised. Additionally, several common susceptibility variants associated with early-onset obesity, polygenic type 2 diabetes and nephropathy were identified in the proband that could impose additional effects on the phenotype, its severity or its clinical course.
Conclusion
This report highlights several atypical features in a proband with atypical diabetes associated with an HNF1β missense mutation. It also reinforces the concept that monogenic causes of diabetes could be significant contributors to disease burden in obese individuals with atypical diabetes.