01.12.2018 | Case report | Ausgabe 1/2018 Open Access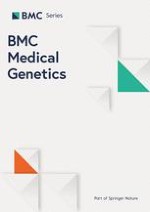 Case report of a novel homozygous splice site mutation in
PLA2G6

gene causing infantile neuroaxonal dystrophy in a Sudanese family
Zeitschrift:
Autoren:

Liena E. O. Elsayed, Inaam N. Mohammed, Ahlam A. A. Hamed, Maha A. Elseed, Mustafa A. M. Salih, Ashraf Yahia, Rayan A. Siddig, Mutaz Amin, Mahmoud Koko, Mustafa I. Elbashir, Muntaser E. Ibrahim, Alexis Brice, Ammar E. Ahmed, Giovanni Stevanin
Abstract
Background
Infantile neuroaxonal dystrophy (INAD) is a rare hereditary neurological disorder caused by mutations in
PLA2G6
. The disease commonly affects children below 3 years of age and presents with delay in motor skills, optic atrophy and progressive spastic tetraparesis. Studies of INAD in Africa are extremely rare, and genetic studies from Sub Saharan Africa are almost non-existent.
Case presentation
Two Sudanese siblings presented, at ages 18 and 24 months, with regression in both motor milestones and speech development and hyper-reflexia. Brain MRI showed bilateral and symmetrical T2/FLAIR hyperintense signal changes in periventricular areas and basal ganglia and mild cerebellar atrophy. Whole exome sequencing with confirmatory Sanger sequencing were performed for the two patients and healthy family members. A novel variant (NM_003560.2 c.1427 + 2 T > C) acting on a splice donor site and predicted to lead to skipping of exon 10 was found in
PLA2G6
. It was found in a homozygous state in the two patients and homozygous reference or heterozygous in five healthy family members.
Conclusion
This variant has one very strong (loss of function mutation) and three supporting evidences for its pathogenicity (segregation with the disease, multiple computational evidence and specific patients' phenotype). Therefore this variant can be currently annotated as "pathogenic". This is the first study to report mutations in
PLA2G6
gene in patients from Sudan.