01.12.2017 | Case report | Ausgabe 1/2017 Open Access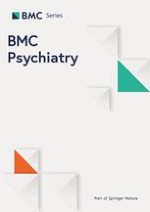 Case report of anti-N-methyl-D-aspartate receptor encephalitis in a middle-aged woman with a long history of major depressive disorder
Zeitschrift:
Autoren:

Xia Rong, Zhenzhen Xiong, Bingrong Cao, Juan Chen, Mingli Li, Zhe Li
Abstract
Background
Anti-N-methyl-D-aspartate receptor (NMDAR) encephalitis is an autoimmune disease involving antibodies against the NR1 subunits of NMDARs. The disease shows variable clinical presentation, and involves new-onset acute psychotic symptoms, making it difficult to differentiate from major depressive disorder with psychotic symptoms. Potential associations between this autoimmune disorder and onset or progression of major depressive disorder remains unclear.
Case presentation
We present a rare case of a patient who had both major depressive disorder and anti-NMDAR encephalitis and in whom the encephalitis initially went undetected. The patient had been suffering from depressive disorder for more than 6 years without any treatment, when she was hospitalized for new-onset psychotic symptoms. She was initially diagnosed only with major depressive disorder with psychotic symptoms, but antipsychotics did not alleviate symptoms and the patient's psychiatric course began to fluctuate rapidly. Anti-NR1 IgG autoantibodies were detected in cerebrospinal fluid, and the combination of immunotherapy and antipsychotics proved more effective than antipsychotics alone. The patient was then also diagnosed with anti-NMDAR encephalitis.
Conclusions
Our case suggests that clinicians should consider anti-NMDAR encephalitis when a patient with depressive disorder shows sudden fluctuations in psychiatric symptoms. It also highlights the need for research into possible relationships between anti-NMDAR encephalitis and major depressive disorder.