01.12.2017 | Case report | Ausgabe 1/2017 Open Access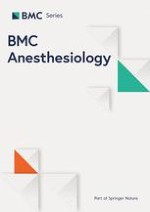 Case report of Pierre Robin sequence with severe upper airway obstruction who was rescued by fiberoptic nasotracheal intubation
Zeitschrift:
Autoren:

Satoru Takeshita, Hiroko Ueda, Tatenobu Goto, Daisuke Muto, Hiroki Kakita, Kazuo Oshima, Takahisa Tainaka, Takayuki Ono, Yoshiaki Kazaoka, Yasumasa Yamada
Abstract
Background
Pierre Robin sequence (PRS) refers to the association of micrognathia, glossoptosis, and airway obstruction. Cases with severe dyspnea due to upper airway obstruction immediately after birth are very rare. We here report two cases with PRS who developed severe dyspnea due to morphological abnormality immediately after birth and were rescued by fiberoptic nasotracheal intubation.
Case presentation
The patient in case 1 had micrognathia and cleft palate, and his tongue protruded into the nasal cavity via a cleft palate. His invaginated tongue was considered an extreme type of glossoptosis and he was diagnosed as Pierre Robin sequence. The patient in case 2 also had micrognathia and cleft palate same as case 1 and accompanied some anomalad. Her chromosome analysis confirmed a diagnosis of 1p36 deletion syndrome and she diagnosed as 1p36 deletion syndrome complicated with Pierre Robin sequence. In both cases, tongue protruded into the nasal cavity via a cleft palate occupied pharynx and nasal cavity, resulting in severe dyspnea. Only the backside of the tongue was visible by laryngoscopy and oropharyngeal intubation was impossible. Therefore, fiberoptic nasotracheal intubation was done to secure the airway for resuscitation.
Conclusion
We conclude that extreme type of glossoptosis in PRS concludes tongue invaginated into nasal cavity which have not reported before and that such cases require resuscitation by fiberoptic intubation immediately after birth. As such, neonatologists should obtain the skill of fiberoptic intubation.