01.12.2017 | Case report | Ausgabe 1/2017 Open Access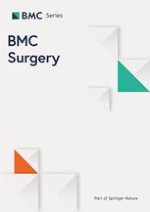 Case report: preoperatively diagnosed perforated Meckel's diverticulum containing gastric and pancreatic-type mucosa
Zeitschrift:
Autoren:

Georges A. Abizeid, Hager Aref
Abstract
Background
Meckel's diverticulum is the most common congenital malformation of the gastrointestinal tract, and it represents a persistent remnant of the omphalomesenteric duct. Although it mostly remains silent, its infrequent occurrence is mirrored by the paucity of large series of data on it in the literature. Hemorrhage, obstruction and inflammation are most common complications of Meckel's diverticulum. Perforation of Meckel's diverticulum is considered very rare.
Case presentation
We present the case of a 17-year -old male, who presented to the emergency department with 1-day history of lower abdominal pain. CT of the abdomen suggested a perforated Meckel's diverticulum, which was confirmed later at the exploratory laparotomy. Perforation was due to progressive inflammation and presence of gastric and pancreatic tissue found on histopathology.
Conclusion
Perforation of Meckel's diverticulum is rarely suspected. Complications of Meckel's diverticulum can be difficult to diagnose, and early recognition with timely operative intervention must occur in order to provide the best outcome for these patients. This is an interesting and unusual case of Meckel's diverticulum perforation that highlights the importance of considering Meckel's diverticulum as a differential diagnosis in every patient presenting with acute abdomen.