01.12.2017 | Case report | Ausgabe 1/2017 Open Access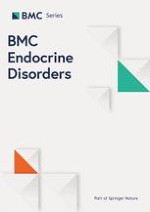 Case report: rare skeletal manifestations in a child with primary hyperparathyroidism
Zeitschrift:
Autoren:

Maulee Hiromi Arambewela, Kamani Danushka Liyanarachchi, Noel P. Somasundaram, Aruna S. Pallewatte, Gamini L. Punchihewa
Abstract
Background
Primary hyperparathyroidism (PHPT) is uncommon among children with an incidence of 1:300,000. This diagnosis is often missed in children in contrast to adults where it is detected at a pre symptomatic stage due to routine blood investigations. Etiology of PHPT can be due to adenoma, hyperplasia or rarely carcinoma.
Case presentation
A 12 year old Sri Lankan girl presented with progressive difficulty in walking since 1 year. On examination she had bilateral genu valgum. Skeletal survey revealed valgus deformity of knee joints, bilateral subluxation of upper femoral epiphysis(SUFE), epiphyseal displacement of bilateral humeri, rugger jersey spine and subperiosteal bone resorptions in lateral aspects of 2nd and 3rd middle phalanges. There were no radiological manifestations of rickets. Metabolic profile revealed hypercalcemia with hypophosphatemia. Intact parathyroid hormone levels were elevated at 790 pg/ml. Vitamin D levels were deficient. She had low bone mineral density with Z score of −3.4. Vitamin D supplementation resulted in worsening of hypercalcemia without reduction in PTH levels. Tc 99 Sestamibi uptake scan showed abnormal tracer retention in left inferior pole of thyroid. A large parathyroid gland was removed with histology favoring parathyroid adenoma. Post operatively she developed hypocalcemia. Bilateral osteotomy was done for SUFE and further surgeries for correction of limb deformities planned.
Conclusion
PHPT in children is usually diagnosed late when irreversible organ damage has occurred. Children can present with non specific symptoms involving gastrointestinal, musculoskeletal, renal and neurological systems. PHPT can cause disarray in bone and epiphysis in children during pubertal growth spurt. Genu valgum and SUFE are rare skeletal manifestations in PHPT and only 10 cases of genu valgum and 9 cases of SUFE have been reported up to now. So far no cases have been reported on epiphyseal displacement of humeri. Awareness regarding the occurrence of these rare skeletal manifestations especially during puberty is important for early diagnosis to prevent irreversible outcomes.