01.12.2018 | Primary Research | Ausgabe 1/2018 Open Access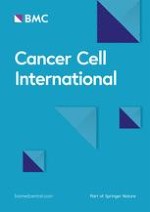 Catalase down-regulation in cancer cells exposed to arsenic trioxide is involved in their increased sensitivity to a pro-oxidant treatment
Zeitschrift:
Autoren:

Christophe Glorieux, Pedro Buc Calderon
Abstract
Background
Pro-oxidant drugs have been proposed for treating certain cancers but the resistance developed by cancer cells to oxidative stress limits its potential use in clinics. To understand the mechanisms underlying resistance to oxidative stress, we found that the chronic exposure to an H2O2-generating system (ascorbate/menadione, Asc/Men) or catalase overexpression (CAT3 cells) increased the resistance of cancer cells to oxidative stress, likely by increasing the antioxidant status of cancer cells.
Methods
Modulation of catalase expression was performed by either protein overexpression or protein down-regulation using siRNA against catalase and aminotriazole as pharmacological inhibitor. The former approach was done by transfecting cells with a plasmid construct containing human catalase cDNA (CAT3 cells, derived from MCF-7 breast cancer cell line) or by generating resistant cells through chronic exposure to an oxidant injury (Resox cells). Cell survival was monitored by using the MTT reduction assay and further calculation of IC
50
values. Protein expression was done by Western blots procedures. The formation of reactive oxygen species was performed by flow cytometry. The transcriptional activity of human
catalase
promoter was assessed by using transfected cells with a plasmid containing the − 1518/+ 16 promoter domain.
Results
Using Resox and CAT3 cells (derived from MCF-7 breast cancer cell line) as models for cancer resistance to pro-oxidative treatment, we found that arsenic trioxide (ATO) remarkably sensitized Resox and CAT3 cells to Asc/Men treatment. Since catalase is a key antioxidant enzyme involved in detoxifying Asc/Men (as shown by siRNA-mediated catalase knockdown) that is overexpressed in resistant cells, we hypothesized that ATO might regulate the expression levels of catalase. Consistently, catalase protein level is decreased in Resox cells when incubated with ATO likely by a decreased transcriptional activity of the
catalase
promoter.
Conclusions
Our findings support the proposal that ATO should be administered in combination with pro-oxidant drugs to enhance cancer cell death in solid tumors.