01.12.2018 | Research article | Ausgabe 1/2018 Open Access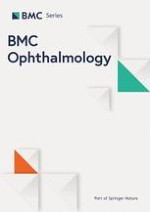 Cataract surgery in patients with corneal opacities
Zeitschrift:
Autoren:

Yi-Ju Ho, Chi-Chin Sun, Hung-Chi Chen
Abstract
Background
Investigating the efficacy and safety of phacoemulsification with intraocular lens (IOL) implantation in corneal opacities.
Methods
This retrospective study was conducted in a tertiary medical center. Twenty-three eyes of 19 patients with cataracts and corneal opacities obscuring the pupillary center having received phacoemulsification with IOL insertion without any ancillary techniques were enrolled. The primary study outcome measures were uncorrected and best corrected visual acuity (BCVA), and complications. Backscatters of corneal scar lesions were evaluated by slit lamp-based haze grading, Scheimpflug Pentacam and anterior segment optical coherence tomography (ASOCT). Visual outcomes after cataract surgeries and improvement range were used to determine the safety and efficacy of cataract surgery for our patients.
Results
All patients underwent uneventful capsulorhexis and phacoemulsification. The mean age was 72.22 ± 10.1 years, and the mean follow-up period was 18.57 ± 15.42 months. The mean BCVA significantly improved from 1.45 ± 0.65 preoperatively to 0.94 ± 0.55 logMAR postoperatively (
p
 < 0.001), and the number of eyes with a BCVA of 20/100 or better increased from 4 to 14. Complications included corneal edema in two eyes and reactivation of the previous corneal pathology in five eyes. Four eyes did not achieve an improvement in visual acuity after surgery, which may have been due to co-existing ocular co-morbidities. Both Pentacam corneal densitometry and ASOCT demonstrated no significant correlations with final visual outcome. However, a statistically significant relationship between the severity of corneal opacity and improvement range in BCVA (
r
 = − 0.782,
P
 = 0.001) was found by our OCT grading method.
Conclusions
Phacoemulsification and IOL implantation in selected cases of coexisting cataracts and corneal opacities is safe that can provide suboptimal but long-term vision when penetrating keratoplasty is not possible or at high-risk of graft failure. ASOCT is a simple tool to predict visual outcomes after cataract surgery in opacified corneas.