01.12.2018 | Research article | Ausgabe 1/2018 Open Access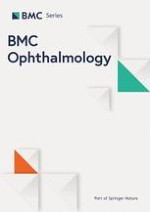 Cataract surgery in patients with corneal opacities
Zeitschrift:
Autoren:

Yi-Ju Ho, Chi-Chin Sun, Hung-Chi Chen
Abbreviations
BCVA
Best corrected visual acuity
OCP
Ocular cicatricial pemphigoid
OCT
Optical coherence tomography
UCVA
Uncorrected visual acuity
Background
Therefore, the primary goal of this study was to report the visual outcomes and complications in patients undergoing cataract surgery in eyes with coexisting corneal opacities. The second aim was to evaluate whether anterior segment OCT can be used as an alternative objective modality to predict visual prognosis. To our knowledge, this is the first report to evaluate and compare non-transparent cornea with densitometry and new OCT grading methods.
Methods
Medical records of patients with cataracts and corneal opacities who underwent phacoemulsification and IOL implantation were reviewed. Inclusion criteria were a best-corrected visual acuity (BCVA) less than 20/40 and corneal opacification involving the visual axis and advanced cataracts. Only eyes with partially visible anterior capsules and pupillary margins were enrolled. The exclusion criteria were use of ancillary techniques or those who received simultaneous keratoplasty. No patients had previously ocular surgeries except for one who had PKP before cataract surgery.
Preoperative evaluation
The demographic and perioperative data were recorded. Visual acuity was expressed as logMAR. The severity of cataracts was categorized based on the Lens Opacity Classification System III [
6
]. Fundus examinations and B-scan ultrasonography were performed. Specular microscopy and anterior segment OCT were used to analyze the function and structure of the corneas.
Slit lamp-based haze grading
We scored corneal haze in accordance with modified VISX protocol as follow: 0 indicates clear cornea and no haze; 0.5 is barely detectable haze; 1 is mildly affecting visual performance; 2 is moderated haze; 3 is opaque area prevent refraction, anterior chamber visible; 4 indicates opacity hinder view of anterior chamber. The cornea haze was scored by two observers (YJH and CCS).
Corneal opacification grading
The boundary of corneal opacification was demarcated manually (Fig.
1a
), and its size was measured using Image J software (National Institutes of Health, Maryland). The percentage of opacity occupying central corneal region was calculated. The central cornea was defined as a central ellipse with 50% corneal horizontal diameter as major axis and 50% vertical diameter as minor axis (Fig.
1a
). To quantify the density of the opaque area, vertical and horizontal midline cross-sections were measured by anterior segment OCT (RT-100, Optovue, CA) and analyzed by Image J software (Fig.
1b
). Detected signals were given a value ranging from 0 (plain black) to 255 (plain white) according to their reflectivity (Fig.
1b
). The above value represented mean gray value of OCT (shown in below formula). Assumption was made that opacity density can be represented by average of mean gray value of vertical and horizontal cross sections. The objective severity of corneal opacification was calculated as the size multiplied by the density as followed:
×
×
Corneal densitometry
To measure the backscatter of the cornea, cornea densitometry was analyzed by rotating Scheimpflug camera (Pentacam AXL; Oculus, Wetzlar, Germany). This modality can demonstrate opaque area of entire cornea and express in color-scale units. And the scale is further calibrated by built-in software, which defines minimum light scatter of 0 (most transparent) and maximum light scatter of 100 (total opaque). Due to low repeatability and age-related change effect measurement accuracy outside 6 mm-zone. We only analyzed area within 6 mm central zone diameter measured from corneal apex, and thickness of total corneal layer. Figure
1c
demonstrated the result that Scheimpflug Pentacam analyzed corneal densitometry of corneal opacity shown in Fig.
1a
.
Surgical technique
All surgeries were performed under topical anesthesia with same techniques. In brief, a side port was made, and a clear corneal tunnel was fashioned at the 11 o'clock. The viscoelastic device was injected into the anterior chamber, and continuous curvilinear capsulorhexis was performed without dye staining. Phacoemulsification was accomplished using a "divide and conquer" maneuver. Automated irrigation and aspiration were used to remove residual cortex. To calculate IOL power, a preoperative keratometry reading was taken in the ipsilateral eye or from the other eye. Emmetropic IOL power was calculated using the Sanders, Retzlaff and Kraff-T formula. A foldable acrylic lens was implanted. Stromal hydration was performed to seal the wounds. Topical gentamicin was applied to the ocular surface after surgery.
Postoperative follow-up
The patients were examined on postoperative days 1, 3 and 7, and then 1 month and every 3 to 4 months thereafter. During each follow-up visit, a complete ophthalmic examination including UCVA, BCVA, keratometry, tonometry, slit-lamp examination, endothelial cell density, central corneal thickness and fundus examination was performed.
Statistical analysis
All data was analyzed by commercially available SPSS statistical software (IBM Corp. Version 20.0, Armonk, NY). A
P
value of less than 0.05 was considered to be statistically significant.
The normality of all data samples was first checked by the Kolmogorov-Smirnov test. Because the data did not fulfill the criteria for normal distribution, the Spearman correlation coefficient was calculated to assess the relationships of clinical corneal haze score, corneal densitometry, and objective OCT corneal opacity grading with best corrected visual acuity. Linear regression was used to produce the line passing through the data.
Results
Discussion
Confounding parameters such as the thickness of the cornea, irregularities of the corneal surface and refractive index in the opacified area were controlled for by comparing preoperative and postoperative visual acuity in the same individual. Because of the simplicity and reproducibility of OCT measurements, surgeons may adopt our proposed grading system as a useful guide to predict visual outcomes in patients who are not candidates or hesitate for combined PKP and cataract surgery.
Although anterior segment OCT allows for non-invasive and objective analysis of corneal structural abnormalities and has good predictability for postoperative BCVA, some limitations still exist. For example, simply averaging vertical and horizontal cross-sectional lines is inadequate to represent the size and shape of corneal opacities due to their non-homogenous properties. Severity of cataract also contributes to the improvement of visual acuity. Above two factors may be reason why we did not find an association between corneal opacity severity and improvements in UCVA. Furthermore, corneal surface irregularities and tearing that may contribute to visual disturbance were not addressed. Finally, due to the retrospective nature, the effects of underlying posterior segment pathologies on visual outcomes were not excluded. Therefore, future prospective studies with well-designed anterior segment OCT software and strict criteria to exclude the confounding factors are warranted to investigate the effects of corneal opacity on visual outcomes after cataract surgery.
Conclusions
In conclusion, phacoemulsification is not an alternative to PKP, however it is a safe and feasible method for patients who are poor candidates for transplantation, especially for those with vision in only one eye and who are unable to comply with follow-up protocols after keratoplasty. Moreover, phacoemulsification can also serve as an interim procedure to allow patients to become ambulatory while they are waiting for PKP, especially in developing countries with a lack of good quality donor corneas.
Acknowledgements
There are no acknowledgements to note.
Funding
There is no financial and material support from any sponsor or funder for this study.
Availability of data and materials
The datasets used and/or analysed during the current study available from the corresponding author on reasonable request.
Ethics approval and consent to participate
This study was approved by the institutional review board at Chang Gung Memorial Hospital (103-6434B); the informed consent was waived. All clinical investigations have been conducted according to the principles expressed in the Declaration of Helsinki.
Competing interests
There were no financial or non-financial competing interests regarding to this study.
Publisher's Note
Springer Nature remains neutral with regard to jurisdictional claims in published maps and institutional affiliations.
Open Access
This article is distributed under the terms of the Creative Commons Attribution 4.0 International License (
http://​creativecommons.​org/​licenses/​by/​4.​0/​
), which permits unrestricted use, distribution, and reproduction in any medium, provided you give appropriate credit to the original author(s) and the source, provide a link to the Creative Commons license, and indicate if changes were made. The Creative Commons Public Domain Dedication waiver (
http://​creativecommons.​org/​publicdomain/​zero/​1.​0/​
) applies to the data made available in this article, unless otherwise stated.