02.08.2018 | Pathology | Ausgabe 12/2018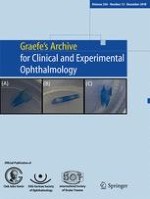 CD163+ macrophages infiltrate axon bundles of postmortem optic nerves with glaucoma
Autoren:

Milica A. Margeta, Eleonora M. Lad, Alan D. Proia
Wichtige Hinweise
Electronic supplementary material
Presented at The Association for Research in Vision and Ophthalmology (ARVO) meeting in Seattle, WA, May 2016.
Abstract
Purpose
Prior research in animal models has shown that macrophages and microglia play an important role in pathogenesis of glaucoma, but the phenotype and distribution of macrophages in human glaucomatous tissue have not been sufficiently characterized.
Methods
We analyzed H&E, CD68-, and CD163-immunostained slides from 25 formaldehyde-fixed, paraffin-embedded autopsy eyes: 12 control eyes and 13 eyes with glaucoma. The diagnosis of glaucoma was made based on a history of glaucoma as reported in the medical record and histological changes characteristic of glaucoma. Glaucoma cases and controls were matched in terms of age, sex, and race.
Results
Qualitative analysis of the conventional outflow pathway and the optic nerve revealed that all eyes contained CD163+ cells but a negligible number of CD68+ cells. CD163+ macrophages infiltrated the trabecular meshwork and surrounded Schlemm's canal of normal eyes and eyes with glaucoma, but the pattern was variable and qualitatively similar between groups. In optic nerves of control eyes, CD163+ macrophages were present at low levels and restricted to septa between axon bundles. In glaucomatous optic nerves, the number of CD163+ cells was increased both qualitatively and quantitatively (glaucoma 5.1 ± 0.6 CD163+ cells/mm
2
, control 2.5 ± 0.3 CD163+ cells/mm
2
,
p
< 0.001), with CD163+ cells infiltrating axon bundles in cases of both mild and severe diseases.
Conclusions
The increase in CD163+ cell number in eyes with mild and severe glaucoma is the first demonstration of macrophage infiltration in glaucomatous human optic nerves. This finding supports a role for macrophages in glaucoma pathogenesis and progression.