28.03.2019 | Original Investigation | Ausgabe 3-4/2019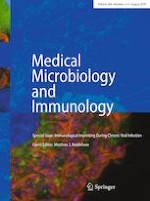 CD4 T cells are required for maintenance of CD8 TRM cells and virus control in the brain of MCMV-infected newborn mice
Zeitschrift:
Autoren:

Ilija Brizić, Lea Hiršl, Marko Šustić, Mijo Golemac, William J. Britt, Astrid Krmpotić, Stipan Jonjić
Wichtige Hinweise
Edited by: Matthias J. Reddehase.
Ilija Brizić and Lea Hiršl have contributed equally.
This article is part of the Special Issue on Immunological Imprinting during Chronic Viral Infection.
Publisher's Note
Springer Nature remains neutral with regard to jurisdictional claims in published maps and institutional affiliations.
Abstract
Cytomegalovirus (CMV) infection is a significant public health problem. Congenital CMV infection is a leading infectious cause of long-term neurodevelopmental sequelae, including mental retardation and sensorineural hearing loss. Immune protection against mouse cytomegalovirus (MCMV) is primarily mediated by NK cells and CD8+ T cells, while CD4+ T cells are not needed for control of MCMV in majority of organs in immunocompetent adult mice. Here, we set out to determine the role of CD4+ T cells upon MCMV infection of newborn mice. We provide evidence that CD4+ T cells are essential for clearance of MCMV infection in brain of neonatal mice and for prevention of recurrence of latent MCMV. In addition, we provide evidence that CD4+ T cells are required for induction and maintenance of tissue-resident memory CD8+ T cells in the brain of mice perinatally infected with MCMV.