01.02.2013 | Original Article | Ausgabe 2/2013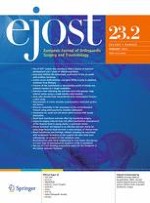 Celecoxib inhibits the heterotopic ossification in the rat model with Achilles tenotomy
Autoren:

Kairui Zhang, Liang Wang, Sheng Zhang, Bin Yu, Feng Liu, Zhuang Cui, Dadi Jin, Xiaochun Bai
Wichtige Hinweise
Kairui Zhang, Liang Wang and Sheng Zhang contributed equally to this work.
Abstract
Celecoxib, a selective cox-2 inhibitor, has been shown to prevent the heterotopic ossification following total hip arthroplasty. However, the effects of celecoxib on heterotopic ossification at other locations remain unclear. This study aimed to investigate the effect of celecoxib on heterotopic ossification in the rat model with Achilles tenotomy. Forty male Sprague–Dawley rats, which were randomly divided into 2 groups (
n
= 20), underwent midpoint Achilles tenotomy on left legs through a posterior approach under aseptic condition. Experimental group was treated with the saline solution of celecoxib (10 mg/kg) per day, while control group was treated by normal saline (0.9%). At 3, 5 and 10 postoperative weeks, all animals were examined by X-ray to assess new bone formation in the Achilles tendon. At 10 weeks after surgery, all animals were killed and Achilles tendons were taken for hematoxylin-eosin (HE) and immunohistochemical staining. Heterotopic ossification developed in 3 rats (15%) in experimental group and 20 rats (100%) in control group by postoperative 10 weeks. The incidence of heterotopic ossification was significantly lower in experimental group than in control group (
P
< 0.05). Our findings suggest that celecoxib inhibits HO development in rat model with Achilles tenotomy.