01.12.2014 | Research article | Ausgabe 1/2014 Open Access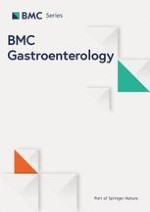 Celiac disease in the Mediterranean area
Zeitschrift:
Autoren:

Francesca Tucci, Luca Astarita, Abdelhak Abkari, Mona Abu-Zekry, Thomas Attard, Mongi Ben Hariz, José Ramon Bilbao, Ghazalia Boudraa, Samir Boukthir, Stefano Costa, Veselinka Djurisic, Jean-Pierre Hugot, Iñaki Irastorza, Aydan Kansu, Sanja Kolaček, Giuseppe Magazzù, Dušanka Mičetić-Turk, Zrinjka Misak, Eleftheria Roma, Pasqualino Rossi, Selma Terzic, Virtut Velmishi, Carmela Arcidiaco, Renata Auricchio, Luigi Greco
Wichtige Hinweise
Electronic supplementary material
The online version of this article (doi:
10.​1186/​1471-230X-14-24
) contains supplementary material, which is available to authorized users.
Renata Auricchio and Luigi Greco contributed equally to this work.
Competing interests
The authors declare that they have no competing interests.
Authors' contributions
FT, LA, RA and LG planned the study, developed the forms, run the analysis and lead the writing of the manuscript. PR, MBH, AK, SK, GM, ZM made substantial contributions to conception and design and acquisition of data. AA, MAZ, JRB, GB, SB, SC, VD, JPH, II, DMT, ER, ST, VV, CA have been involved in drafting the manuscript and collecting data. All authors read and approved the final manuscript.
Abstract
Background
The World Gastroenterology Organization recommends developing national guidelines for the diagnosis of Celiac Disease (CD): hence a profile of the diagnosis of CD in each country is required. We aim to describe a cross-sectional picture of the clinical features and diagnostic facilities in 16 countries of the Mediterranean basin. Since a new ESPGHAN diagnostic protocol was recently published, our secondary aim is to estimate how many cases in the same area could be identified without a small intestinal biopsy.
Methods
By a stratified cross-sectional retrospective study design, we examined clinical, histological and laboratory data from 749 consecutive unselected CD children diagnosed by national referral centers.
Results
The vast majority of cases were diagnosed before the age of 10 (median: 5 years), affected by diarrhea, weight loss and food refusal, as expected. Only 59 cases (7.8%) did not suffer of major complaints. Tissue transglutaminase (tTG) assay was available, but one-third of centers reported financial constraints in the regular purchase of the assay kits. 252 cases (33.6%) showed tTG values over 10 times the local normal limit. Endomysial antibodies and HLA typing were routinely available in only half of the centers. CD was mainly diagnosed from small intestinal biopsy, available in all centers. Based on these data, only 154/749 cases (20.5%) would have qualified for a diagnosis of CD without a small intestinal biopsy, according to the new ESPGHAN protocol.
Conclusions
This cross-sectional study of CD in the Mediterranean referral centers offers a puzzling picture of the capacities to deal with the emerging epidemic of CD in the area, giving a substantive support to the World Gastroenterology Organization guidelines.