01.12.2018 | Research | Ausgabe 1/2018 Open Access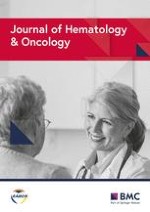 Cell adhesion-mediated mitochondria transfer contributes to mesenchymal stem cell-induced chemoresistance on T cell acute lymphoblastic leukemia cells
Zeitschrift:
Autoren:

Jiancheng Wang, Xin Liu, Yuan Qiu, Yue Shi, Jianye Cai, Boyan Wang, Xiaoyue Wei, Qiong Ke, Xin Sui, Yi Wang, Yinong Huang, Hongyu Li, Tao Wang, Ren Lin, Qifa Liu, Andy Peng Xiang
Wichtige Hinweise
Electronic supplementary material
Abstract
Background
Despite the high cure rate of T cell acute lymphoblastic leukemia (T-ALL), drug resistance to chemotherapy remains a significant clinical problem. Bone marrow mesenchymal stem cells (MSCs) protect leukemic cells from chemotherapy, but the underlying mechanisms are poorly understood. In this study, we aimed to uncover the mechanism of MSC-induced chemoresistance in T-ALL cells, thus providing a promising clinical therapy target.
Methods
Cell viability was determined using the viability assay kit CCK-8. The mitochondrial ROS levels were detected using the fluorescent probe MitoSOX™ Red, and fluorescence intensity was measured by flow cytometry. In vitro, MSCs and Jurkat cells were cocultured. MSCs were labeled with green fluorescent protein (GFP), and Jurkat cells were labeled with the mitochondria-specific dye MitoTracker Red. Bidirectional mitochondrial transfer was detected by flow cytometry and confocal microscopy. The mechanism of mitochondria transfer was analyzed by inhibitor assays. Transcripts related to Jurkat cell/MSC adhesion in the coculture system were assessed by qRT-PCR. After treatment with a neutralizing antibody against a key adhesion molecule, mitochondria transfer from Jurkat cells to MSCs was again detected by flow cytometry and confocal microscopy. Finally, we verified our findings using human primary T-ALL cells cocultured with MSCs.
Results
Chemotherapeutic drugs caused intracellular oxidative stress in Jurkat cells. Jurkat cells transfer mitochondria to MSCs but receive few mitochondria from MSCs, resulting in chemoresistance. This process of mitochondria transfer is mediated by tunneling nanotubes, which are protrusions that extend from the
cell membrane
. Moreover, we found that most Jurkat cells adhered to MSCs in the coculture system, which was mediated by the adhesion molecule ICAM-1. Treatment with a neutralizing antibody against ICAM-1 led to a decreased number of adhering Jurkat cells, decreased mitochondria transfer, and increased chemotherapy-induced cell death.
Conclusions
We show evidence that mitochondria transfer from Jurkat cells to MSCs, which is mediated by cell adhesion, may be a potential therapeutic target for T-ALL treatment.