01.12.2016 | Primary research | Ausgabe 1/2016 Open Access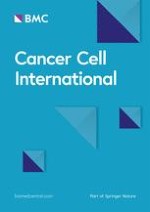 Cell division cycle 7-kinase inhibitor PHA-767491 hydrochloride suppresses glioblastoma growth and invasiveness
Zeitschrift:
Autoren:

Zubeyde Erbayraktar, Begum Alural, Resat Serhat Erbayraktar, Erdogan Pekcan Erkan
Wichtige Hinweise
Electronic supplementary material
The online version of this article (doi:
10.​1186/​s12935-016-0364-8
) contains supplementary material, which is available to authorized users.
Zubeyde Erbayraktar and Begum Alural contributed equally to this work
Abstract
Background
Genomic instability is a hallmark of cancer cells, and this cellular phenomenon can emerge as a result of replicative stress. It is possible to take advantage of replicative stress, and enhance it in a targeted way to fight cancer cells. One of such strategies involves targeting the cell division cycle 7-related protein kinase (CDC7), a protein with key roles in regulation of initiation of DNA replication. CDC7 overexpression is present in different cancers, and small molecule inhibitors of the CDC7 have well-documented anti-tumor effects. Here, we aimed to test the potential of CDC7 inhibition as a new strategy for glioblastoma treatment.
Methods
PHA-767491 hydrochloride was used as the CDC7 inhibitor. Two glioblastoma cell lines (U87-MG and U251-MG) and a control cell line (3T3) were used to characterize the effects of CDC7 inhibition. The effect of CDC7 inhibition on cell viability, cell proliferation, apoptosis, migration, and invasion were analyzed. In addition, real-time PCR arrays were used to identify the differentially expressed genes in response to CDC7 inhibition.
Results
Our results showed that CDC7 inhibition reduces glioblastoma cell viability, suppresses cell proliferation, and triggers apoptosis in glioblastoma cell lines. In addition, we determined that CDC7 inhibition also suppresses glioblastoma cell migration and invasion. To identify molecular targets of CDC7 inhibition, we used real-time PCR arrays, which showed dysregulation of several mRNAs and miRNAs.
Conclusions
Taken together, our findings suggest that CDC7 inhibition is a promising strategy for treatment of glioblastoma.